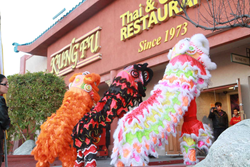 We've been inviting and staging Traditional Chinese Lion Dances in front of our restaurants in Las Vegas since 1975
LAS VEGAS (PRWEB) February 04, 2019
The Lunar New Year, also known as Chinese New Year will be landing on February 5, 2019, two days after the winner of Super Bowl LII is known. With just one day in between watching the Superbowl inside the oldest and most authentic Thai-Chinese Restaurant in Las Vegas, Kung Fu Plaza, patrons are welcomed back to personally witness the annual traditional Lion Dance. On Tuesday February 5, 2019 at 1700 hours, or 5:00pm PT, the Martial Artist from the Lohan School of Shaolin will be performing their Legendary Lion Dance Ceremony in front of the restaurant.
"We've been inviting and staging Traditional Chinese Lion Dances in front of our restaurants in Las Vegas since 1975." Said Allan Wong, general manager of Kung Fu Plaza Restaurant. "Back then, my dad was one of the first businesses in Las Vegas extending invitations to the Chinese marital artist into performing the dance here." Said Wong. Traveling from San Francisco to perform in Las Vegas back in 1975 was a common ritual, since the Asian population then was very limited outside of the west coast.
On the first day of Chinese New Year, the restaurant will be recommending traditional dishes that have been prepared and feast throughout the centuries by Chinese families as they ring in the Lunar New Year. Chinese Roast duck, Pork Hock, Stir Fried Baby Bok Choy, Seafood Tofu Soup, Hon Sui Tofu, and Lychee in iced sweet syrup for desert rounds up the feast in 2019. Lychee is considered the "LUCKY FOOD" of 2019 due to its red skin (which is peeled away prior to consumption) and white-grayish texture. Both Red and white-gray are considered positive-lucky-harmonious colors for the year of the pig 2019 as red are associated with Fire and white gray with metal, both are Earth elements coinciding with the year of the earth pig.
The traditional Chinese New Year Feast has many similarities to the Western Thanks Giving Feast at its core. The Roasted Duck replaces the Turkey, Steamed Jasmine Rice instead of Dinner Rolls, Stir Fried Vegetables in Garlic sauce in place of stuffing, Potatoes is replaced with Tofu, and this year, Lychee's is enjoyed in place of Apple Pies. The most important element of any feast is not the type of food, but rather that the whole family is together gathering around to enjoy the meal if not each other.
To view a complete menu and more information about Kung Fu Thai & Chinese Restaurant, visit https://www.kungfuplaza.com. Kung Fu Plaza restaurant is open for Lunch and dinner every day of the year from 11:00am to 10:30pm PT, where diners could Dine in, order Take Out, have their meals delivered, the restaurant will even cater their next event. Located at 3505 S. Valley View Boulevard., Las Vegas, NV 89103 USA, the kitchen is just ½ mile west of the Wynn Resort on the Las Vegas Strip. For more information or reservations, call 702-247-4120.