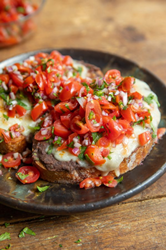 Inspired by Mexican history, culture, and traditions, from molletes to chilaquiles and even a 4-ingredient Mexican flour tortilla, these special meals will surely satisfy every palate
PUERTO VALLARTA, Mexico (PRWEB) September 08, 2020
Wanderlusting travelers can enjoy a taste of Mexico at home with traditional Mexican breakfast recipes from Velas Resorts. The award-winning resort collection, with luxury properties in Los Cabos, Riviera Maya, Riviera Nayarit, and Puerto Vallarta, shares easy-to-make, flavorful dishes to make each day of the week. Inspired by Mexican history, culture, and traditions, from molletes to chilaquiles and even a 4-ingredient Mexican flour tortilla, these special meals will surely satisfy every palate.
Highlighted are seven different recipes chosen by the resort collection's acclaimed chefs. Two of the most popular ones are featured below and others are hyperlinked, with both ingredients and preparation instructions.
Monday: Molletes
A dish that will most definitely be a fan favorite is Molletes a la Mexicana. Similar to an open-faced sandwich, this Mexican family breakfast staple is made with open-faced bolillos, topped with refried beans, ham slices, shredded cheese, and homemade pico de gallo. Below are the ingredients and preparation instructions for the dish.
Ingredients:

1 Bolillo or sandwich roll
4 tbsp. Butter
½ cup Shredded cheese
¾ cup Refried beans
4 slices Ham
2 tomatoes
½ onion
½ jalapeño
1 lime
15-20 sprigs cilantro
½ teaspoon salt
Preparation Instructions:
1. Cut bolillo or sandwich roll in half. For a crunchy, crisp, sandwich, lightly butter the bread and toast the roll for 2 to 4 minutes in an oven at 400 °F.
2. Next, top the bread with a layer of refried beans, ham slices, and shredded cheese.
3. Bake again for 3-5 minutes or until the cheese melts. Remove from the oven and set aside.
4. Then, make the homemade pico de gallo by mixing the tomatoes, onion, jalapeño, lime juice, cilantro, and salt.
5. Finish the dish by topping each Mollete with the homemade Pico de Gallo.
Tuesday: Chilaquiles
Grand Velas Riviera Nayarit's Chilaquiles recipe is an effortless breakfast dish. Choose between a red sauce, green sauce, or both, and pour the desired sauce over corn chips. Then, top with sour cream and add finely sliced onion, shredded cheese, and cilantro for decoration.
Wednesday: Enfrijoladas
In the mood for comfort food? Enfrijoladas with Chicken are just the hearty choice. Made by drenching corn tortillas filled with chicken in creamy, coarsely pureed black beans, the dish is then finished with a touch of cream, grated cheese, and sliced avocado.
Thursday: Torta
A Mexican Torta is jam-packed with flavor. Stir-fried chicken, green peppers, and onion are stuffed inside toasted pre-open pita bread, along with hot refried beans.
Friday: Sweet Corn Tamale
The tamale, a well-known staple of Mexico, is a versatile dish with many different variations. A popular variation of the tamale is the Sweet Corn Tamale. Created usually without any type of filling, they offer a creamy, melt in your mouth texture. Accompany this tamale with a cup of atole, a traditional hot corn- and masa-based beverage, or hot chocolate to enhance the sweetness.
Saturday: Huevos Motuleños
Make the tastiest Saturday brunch with Huevos Motuleños. Served with fried eggs over black beans on a fried tortilla, topped with salsa, ham, peas, and grated cheese, this hearty dish is a favorite of the Yucatan having originated in the town of Motul, a city rich with Mayan and colonial history.
Sunday: Northern Mexican Flour Tortilla
Like to meal prep? Make a slew of 4-ingredient Northern Mexican Flour Tortillas to enjoy throughout the week. Not only are they easy to make, but they also pair well with almost any vegetable. Below are the ingredients and preparation instructions for the dish:
Ingredients:
1lb. flour
½ cup vegetable lard
1 tbsp. salt
1 cup warm water
Preparation Instructions:
1. Place flour on a hard surface.
2. Add the vegetable lard and mix with your hands.
3. Dissolve the salt in warm water and add the mixture slowly to the dough.
4. Using a plastic spatula, collect all the remaining flour and mix it with the rest of the dough.
5. Work the dough until a sticky texture is achieved (Approximately 2 minutes in the mixer or 4 minutes by hand)
6. Divide the dough into 10 equal parts and form balls of about 2 inches in diameter each.
7. Cover them with a greased plastic wrap and let them rest for 20 min. to 2 hrs.
8. Next, heat an ungreased griddle over medium heat.
9. Flatten one of the balls on a lightly floured surface and roll it out with a rolling pin to form a 6-inches circle.
10. Begin rolling the dough out like a pizza of about 15 inches in diameter.
11. Then, place the tortilla on the hot griddle.
12. Once the dough becomes opaque and the bottom shows slightly browned patches, turn the tortilla over and cook the other side. Please note that the entire process should take less than half a minute.
13. As soon as one tortilla is ready, stack it with the others and wrap them in a cloth.
Discover more recipes from the resorts' acclaimed F&B program on Velas Magazine here and here.
For reservations or more information, call 1-888-407-4869, email reservations@velasresorts.com or visit http://www.velasresorts.com.
About Velas Resorts
Velas Resorts in Riviera Maya, Puerto Vallarta, Riviera Nayarit, and Los Cabos have earned 56 AAA Diamonds, including the prestigious Five Diamond Award. Other esteemed international awards for services and facilities include Virtuoso's Best Family Program, Forbes Travel Guide Five Star Award for spa, and TripAdvisor's Top Hotels in the World, among others. Offering unparalleled all-inclusive experiences, properties include Grand Velas in Los Cabos, with dramatic ocean views and unique spaces infusing every area of the resort; Grand Velas Riviera Nayarit, which enjoys a long stretch of pristine beach and a dramatic backdrop of the Sierra Madre mountains; and Grand Velas Riviera Maya, offering a sophisticated resort experience in the Caribbean with jungle and beach settings. In Puerto Vallarta, Casa Velas is a boutique adults-only hotel and beach club located on the Marina Vallarta Golf Course, and Velas Vallarta, a family-friendly all suites resort and spa located on Banderas Bay. Mar del Cabo, a boutique hotel on Mexico's Baja Peninsula, opened in December 2018 as its only European Plan offering. Eduardo Vela Ruiz, founder and president of Velas Resorts, operates Velas Resorts with brother Juan Vela, vice president of Velas Resorts, by his side. Explore tips, recipes, lifestyle and travel trends, and the latest news about Velas Resorts on the digital mag: http://www.velasmagazine.com.