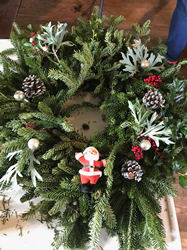 THURMONT, Md. (PRWEB) November 17, 2022
The Catoctin Furnace Historical Society, Inc. (CFHS) will host the 12th annual Traditional Village Christmas celebration, an outdoor European holiday market style event, in this historic village on Saturday, December 3, 2022, from 10 a.m. to 4 p.m. This year, CFHS is honored to host local blacksmith Jim Maness, along with jewelers, soap makers, and other local craftspeople. Guests can sip apple cider and enjoy heirloom-recipe baked goods. Children can make a holiday craft and have their photograph taken with Belsnickel. Sauced Savage BBQ will be on site all day. In the 19th and early 20th century, Christmas in Catoctin Furnace included a visit from Belsnickel to the homes of German immigrants. During this visit, two weeks before Christmas, Belsnickel rewarded good children with treats, but carried a switch to punish naughty ones.
Catoctin Furnace was built in 1774 by four brothers, James, Baker, Thomas, and Roger Johnson, to produce iron from the rich deposits of hematite found in the nearby mountains. The iron furnace at Catoctin played a pivotal role during the Industrial Revolution in the young United States; American cannonballs fired during the Battle of Yorktown came from here. The furnace supported a thriving community, and company houses were established alongside the furnace stack. Throughout the nineteenth century, the furnace produced iron for household and industrial products. Catoctin Furnace ceased production in 1903.
In 1973, The Catoctin Furnace Historical Society, Inc. was formed by G. Eugene Anderson, Clement E. Gardiner, J. Franklin Mentzer, and Earl M. Shankle to "foster and promote the restoration of the Catoctin Furnace Historic District...and to maintain the same exclusively for educational and scientific purposes," as well as "to exhibit to coming generations our heritage of the past."
Catoctin Furnace maintains much of its original layout and structures, which were constructed primarily between 1774 and 1820. The village introduces visitors to the area's historical importance and heritage resources, providing the look and feel of an early industrial complex yet retaining the freshness and charm of a small community at the foot of Catoctin Mountain. It is located 12 miles north of Frederick on Maryland Route 806 (Catoctin Furnace Road). For more information, call 443-463-6437 or visit http://www.catoctinfurnace.org.