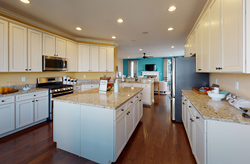 "We are truly grateful for the success at Traditions at Chesterfield, and anyone still interested in purchasing a new home at one of our other available communities should reach out to us directly," said Csik. "Our team is ready to help find you find your dream home."
CHESTERFIELD, N.J. (PRWEB) August 06, 2020
Going. Going. Gone! American Properties Realty, Inc. has announced that Traditions at Chesterfield is now sold out! "After two years of tremendous sales, the premier residential community located within 500-acre Old York Village has sold its last home," said Paul Csik, Senior Vice President of American Properties Realty, Inc."This marks the final offering of new, single-family residences in all of the master planned community."
Upon its opening, Traditions at Chesterfield quickly rose in popularity due, in part, to its premium location within Old York Village. It further distinguished itself by offering a coveted retail component within walking distance – The Shops at Old York Village (located off Old York Road on Saddle Way Boulevard). This provided potential homebuyers with the added convenience of having a traditional downtown feel complete with unique shopping opportunities all within walking distance to their new homes. As an added incentive, Traditions at Chesterfield offered low maintenance, fee-simple residences without a homeowner's association or any related fees.
The community's success was seen far and wide as it quickly garnered multiple awards, including the prestigious title of Community of the Year from the New Jersey Builders Association. Offering both carriage homes and single-family residences that fit varying lifestyles, it's no wonder the community become one of the most loved in Chesterfield – a town that has also been voted the #1 "Best Place to Live" in Burlington County by Philadelphia Magazine.
"The neo-traditional homes here at Traditions at Chesterfield are located in the most appealing residential community in Old York Village," said Csik. "Featuring a smart growth, village design, we were able to create a place where families from all stages and phases of life wanted to start their next chapter. As if that wasn't reason enough to make a move, Traditions at Chesterfield also offers access to a highly ranked, state-of-the art elementary school that is adjacent to centralized recreational facilities. It really is the best of all worlds."
Although Traditions at Chesterfield is sold out, American Properties Realty, Inc. still has new home opportunities available at Heritage at Highland Park in Highland Park, NJ, and Heritage at Pennington in Pennington, NJ.
Heritage at Highland Park, a new community of luxury townhomes in Highland Park, is offering virtual tours of its Aurora, Brookside and Charles model homes. The new Brookside model is also available for tours. Priced from the $390s, homes feature three bedrooms, three baths and a one-car garage. A loft/fourth bedroom option is also available. Quick delivery homes are available, including the Charles Home of the Month with an incentive of $20,000 – buyer must use builder's preferred lender, Caliber Home loans. See Sales Manager for details. The Sales Office is open from 10am to 5pm daily. To learn more, call Erika Rotondo or Kelly Flanagan at 732-354-3543. They can also be reached via email erotonodo@americanproperties.net or kflanagan@americanproperties.net.
Heritage at Pennington, a successful new community of townhomes and two-story villas in Pennington, NJ, is now offering virtual tours of its Rosedale model home. Those interested can visit HeritageAtPennington.com to take a virtual tour and learn more about Phase 2, which features new townhomes with first-floor master bedrooms for the ultimate comfort and convenience. Homes at Heritage at Pennington are priced from $434,990. $5,000 incentives are available toward options. See Sales Manager for details. The Sales Office is open from 10am to 5pm daily. To learn more, call Dana Pennock at 609-559-5904 or email dpennock@americanproperties.net.
"We are truly grateful for the success at Traditions at Chesterfield, and anyone still interested in purchasing a new home at one of our other available communities should reach out to us directly," said Csik. "Our team is ready to help find you find your dream home."
About American Properties Realty, Inc.
American Properties Realty, Inc., A Licensed Real Estate Broker, continues its proud 45-year tradition of introducing award winning communities that provide excellent quality, convenient locations and affordable pricing for New Jersey homebuyers. The Principals of American Properties Realty, Inc., have been involved in the creation of over 10,000 residences ranging from luxurious estate homes to award-winning master planned communities of apartments, condominiums, townhomes and single-family homes.