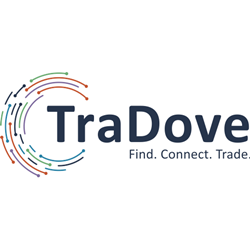 TraDove's B2B Blockchain Payment Solution is set not only to be the first blockchain dedicated to B2B trades, but also the first to operate entirely on mobile devices
PALO ALTO, Calif. (PRWEB) June 06, 2019
TraDove, Inc. today released the completed second stage of their blockchain development project: the beta version of their B2B Blockchain Payment Solution, officially titled Version 1. This newest release comes on the tail of the recent site-wide rebranding, addition of exciting new features, and relaunch of the entire Social Business Network, a B2B platform which matches verified buyers and sellers around the world. TraDove's B2B Blockchain Payment Solution is set to ease and secure global trades for large enterprises and SMEs, along with the added benefit of finding verified business partners in TraDove's Business Network.
History of TraDove's Blockchain
Version 1 of the B2B Blockchain Payment Solution is a follow-up to several successful demonstrations of TraDove's alpha version, which debuted at the Blockchain Expo in Santa Clara in November of last year.
Development on TraDove's payment blockchain began in summer 2018 and is being built by TraDove's global teams in Ukraine and China. The teams' development work is being overseen by TraDove's VP of Operations and Business Development EMEA, Parvis Hanson.
Features & Advantages of TraDove's Blockchain
"TraDove's B2B Blockchain Payment Solution is set not only to be the first blockchain dedicated to B2B trades, but also the first to operate entirely on mobile devices," said Mr. Hanson. Explaining the app's mobile functionality, Mr. Hanson continued, "This lightweight model for TraDove's blockchain scales with each new user who joins, meaning it is never lacking in processing power – a major advantage over traditional blockchain technologies such as Ethereum, Bitcoin, Hyperledger, Quorum, and others which can only handle, at best, several 100s of transactions per second."
These benefits highlighted by Mr. Hanson are only a few of the many features stemming from the TraDove blockchain's mobile nature, which unburdens it from many of the issues affecting traditional blockchains. Other features and benefits of TraDove's B2B Blockchain Payment Solution include:

Built-in Trust: TraDove's B2B smart contract functions in the same way as a letter of credit or escrow service, solving the trust problem in global B2B at low cost or no cost, paperless, and very fast!
8-Level Security: TraDove's trading app employs security protocols on par with top-tier mobile banking applications.
Super Light: Transaction blocks exist only on the mobile devices of transacted parties, allowing a lighter infrastructure than traditional blockchains, making it conducive to mobile devices.
Super Fast: A smart contract replaces the need for proof of work, proof of stake, proof of authority, or 51% vote in order to approve trades. Instead, only consensus between trading parties is needed.
User Authentication Protocols: TraDove employs its own proprietary user authentication in order to guarantee that companies and businesspeople know with whom they are transacting. This is reinforced with Business Network ratings and blockchain-backed credit scoring.
Blockchain-backed Credit Scoring: Due to the unalterable nature of blockchain, a rating based on users' transaction history will allow business partners to trade in confidence.
Privacy: In order to maintain the privacy that businesses desire, transaction blocks are stored only with transacted parties.
Low Cost or No Cost: Unlike traditional blockchains, there is no mining fee or gas required to send currencies or conduct trades.
Environmentally Friendly: Because the system operates entirely on mobile, the mining farms needed by current blockchains are eliminated.
Further elaborating on the benefits the B2B Blockchain Payment Solution is bringing to TraDove's buyers and sellers, Mr. Hanson said, "Both buyers and sellers will be able to quickly develop trust with one another, greatly reduce the cost of their transactions while, at the same time, making them instantaneously. In addition, by operating using a crypto system, sellers may be able to delay tax payments in certain circumstances."
Future of the B2B Blockchain Payment Solution
The B2B Blockchain Payment Solution is meant to complement TraDove's Business Network in order to resolve the issue of global B2B trust. When used together, members with existing connections are able to trade using a stable 1:1 pegged (stablecoin) blockchain token transaction. Unlike traditional blockchain tokens, such as Bitcoin or Ethereum, this stablecoin token is, and will always be, pegged 1:1 against major currencies, beginning with USD, EUR, and later expanding to other major currencies. TraDove and its banking partners guarantee the liquidity of these tokens so that buyers and sellers may sell them back for their equivalent fiat at any time.
As an example, a supplier who has just been paid by a buyer can immediately sell his, let's say, 1000 stablecoin tokens for USD 1000. As the user base grows and circulation increases, there is greater incentive to keep tokens in the ecosystem for companies' continued use in transactions with both their buyers and sellers – all with the peace of mind that, at any point, they can exchange the tokens back for the exact amount that was put into the ecosystem. Finally, when any payment tokens are sold back to TraDove, they are burned from the ecosystem.
In the upcoming months, TraDove will continue quality testing and further development on the B2B Blockchain Payment Solution Version 1 with the help of select clients. Also in the works for future release is a desktop version which will supplement the iOS and Android apps.
After hearing the needs of the B2B space, we built a network dedicated to making the best-suited connections for buyers and sellers around the world. At TraDove, we match members with their ideal business partner, as well as new markets for their products and services, all of which are endorsed and reviewed by verified business professionals. Once users have made their new connections, they are able to collaborate on projects and conduct trades with our own Blockchain Payment Solution, the very first dedicated B2B blockchain. By enabling user authentication and blockchain-backed credit scoring in the B2B space, we are solving the trust and privacy issues in international trade.