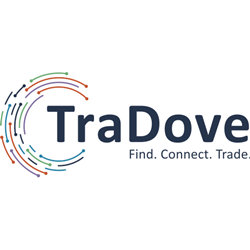 We've streamlined every existing feature and added a multitude more, allowing users to find their business partners, share information & leads, and create proposals to conduct their trades.
PALO ALTO, Calif. (PRWEB) May 02, 2019
TraDove, Inc. today launched the newest iteration of its innovative global B2B social business network. This complete brand overhaul is the culmination of months of development work programmed from the ground up, and was a cornerstone of the white paper which launched TraDove's highly successful ICO in Q1 2018. TraDove's efforts, spearheaded by Chief Marketing Officer, Rowena Bonnette, have been garnering the attention of a number of business partners eager for the redesign and relaunch to go live.
The Redesign of TraDove Business Network
Said Kent Yan, TraDove's Founder and CEO, on the new site, "TraDove's new look and feel are built with business professionals in mind. We've streamlined every existing feature and added a multitude more, allowing users to find their business partners, share information & leads, and create proposals to conduct their trades."
Following up on Mr. Yan's statement, Ms. Bonnette added, "The new design, logo, and messaging reflect the expectations and practices of our most tech-savvy B2B users. I truly believe it complements the new features of our business network as well as TraDove's B2B Blockchain Payment Solution."
TraDove's relaunch includes a number of improvements over the previous business network, including:
Reactive News Feed
A feed that is tailored to members' industry, interests, and subscriptions. Users and companies are encouraged to share their own content.
Group Discussions
Create public and private group discussions based on user interest & industry to share ideas and collaborate.
Automated Buyer-Seller Matching
Receive relevant user recommendations based on your profile, company, and business history to expedite your business dealings.
Leads & Needs
Buyers may post supply needs and be matched with sellers across the world. Likewise, sellers may actively search buyers' leads which are matched with their products & services.
Automated Notifications
Buyers and sellers will receive automated notifications when AI-matched potential business partners post relevant leads.
Intuitive Business Proposals
Once a desired buyer or seller is found, members may quickly & easily initiate a trade by sending their own customized proposals.
TraDove's Global B2B Ecosystem Moving Forward
TraDove's primary mission statement has always been to facilitate trust in the B2B space and create a network where trades can be made simply and securely – a concept coined by Kent Yan as B2B 2.0.
In order to promote this thriving business ecosystem where deals can be made in confidence, TraDove authenticates all Business Network and B2B Blockchain Payment Solution users through its own proprietary authentication protocols. This process begins at registration and is overseen by TraDove prior to any user gaining access to the network. After approval, democratic ratings by business partners and colleagues are used to maintain a user's reputation.
Backing up this network is an intricate infrastructure of business communication tools enabling members to reach out to verified buyers and sellers from around the world. In this ecosystem, buyers and sellers can send proposals as well as conduct topical industry, company, or even interest-based group discussions. Users may utilize TraDove's fully functional blogging platform to publish their own content or that of their company. Additionally, users may share their thoughts, messages, or links on their own live feed.
TraDove further extends an invitation to all buyers and sellers to conduct trustworthy, low-cost, and secured trade using TraDove's B2B Blockchain Payment Solution, a first-of-its-kind dedicated platform that embraces the ease and security of blockchain technology. By relying on a currency-pegged stablecoin, TraDove's professionals can conduct simple & low-cost trades with the assurance of TraDove and its banking partners, including across international borders.
"This is a very exciting time for all of us at TraDove and we are happy to be sharing it with our existing members, new members, and all the community that have been following us since our ICO," said Mr. Yan. He continued, "We look forward to welcoming new members to TraDove's global B2B community so that we may help them in finding new business opportunities and trusted connections, and further that trust by facilitating their trades using with the security and low-cost of our B2B Blockchain Payment Solution."
After hearing the needs of the B2B space, we built a network dedicated to making the best-suited connections for buyers and sellers around the world. At TraDove, we match members with their ideal business partner, as well as new markets for their products and services, all of which are endorsed and reviewed by verified business professionals. Once users have made their new connections, they are able to collaborate on projects and conduct trades with our own Blockchain Payment Solution, the very first dedicated B2B blockchain. By enabling blockchain identity management in the B2B space, we are solving the trust and privacy issues in international trade.