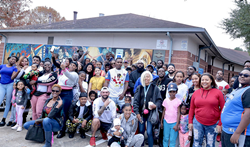 I won't ever stop, people need to know that someone cares, I just want to continue giving to the city that gave so much to me
HOUSTON (PRWEB) January 15, 2019
Southern Rap Legend & Philanthropist Trae The Truth helps to brighten the holidays in his hometown, Houston, and helps a young girl's family to find justice for untimely death.
There was a nationwide outcry for the killer of a young girl, Jazmine Barnes. Whose story has captivated the hearts of so many over the last couple weeks across the nation. Near the end of December, 7 year old Jazmine, resident of Houston, Texas was struck by a stray bullet and killed in the car with her mother and siblings. The homicide has been alleged as a case of mistaken identity. Trae, a victim of gun violence himself, (pictured taken with her father) knows first hand how traumatic these situations can be.
He immediately reached out to the family, committed his time and resources to help her family find justice. He (Trae) continued conversations with Activist and CNN Contributor, Shaun King, information from anonymous sources help bring the alleged killers of young Jazmine to justice. Known originally for his rap prowess, now has more notably taken on the role of philanthropist, and protector of the undeserved and disenfranchised people of his city and around the world.
On Christmas morning, the rapper, along with his Relief Gang rode around the city of Houston in Uhauls to give away over 10,000 toys. Prior to Christmas, Trae partnered with local retailer, Active Athlete for shopping spree for families in need in the amount of over $20,000. He also gave away over $10,000 in Visa Gift Cards. He was also featured on the local news stations assisting a family who's vehicle was vandalized while her son was getting a kidney transplant. Trae was seen replacing the gifts and reaffirming the season's spirit of giving in a time when a family really needed. A day later, an apartment complex was engulfed in flames, leaving one toddler deceased, Trae was there. Comforting the families and replacing Christmas toys, destroyed by the smoke and fire, Trae's presence was right on time. When asked about his efforts and why he continues to do this, his reply, "I won't ever stop, people need to know that someone cares, I just want to continue giving to the city that gave so much to me" Trae even took time to dress up as Santa Claus to pass out toys with his son D'Neeko and his foundation "U'neek and Gifted" to the special needs community, an organization founded by his son.