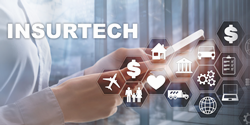 Technology is changing the way insurance companies do business to make it better for the end-users, whether they are prepared for that change or not.
TAMPA BAY, Fla. (PRWEB) January 26, 2021
Insurance may not be an industry many associate with innovation, but even it is being disrupted by the latest technology.(1) At the forefront of the coming changes is the use of data science, something Louisville, Kentucky-based InsurTech firm, Traffk, is well prepared to handle. JOTO PR Disruptors signed the cloud-based insurance platform that utilizes data science and machine learning because its innovative, instant-issue life and health products are an ideal match to the sensibility that powers the agency's disruptive Anti-PR philosophy. "Insurance should no longer rely on the old way of doing things,"Karla Jo Helms, Chief Evangelist and Anti-PR Strategist for JoTo PR(TM), said. "Traffk has the ability to rapidly design, develop and deploy bespoke insurance products for organizations utilizing AI."
A major component of Traffk's cutting-edge technology is its cloud-based sales platform that enables agents and customers to transact paperless, instant-issue insurance products from quote to policy delivery. InsurTech like this saves not only money but time, which is more and more appealing to today's organizations and their distributed work forces. Thanks to Traffk's owned and partnered distribution that encompasses 250,000-plus agents, they are perfectly situated to capitalize on the changes brought about by the pandemic in the last year.
The coronavirus quickly made the high-touch in-person model used for insurance in the past untenable. Traffk's AI-assisted data analysis identifies optimized risk opportunities that get missed by those not using the latest insurance technology, and it is ideal for insurance during COVID. AI assisted reinsurance can help increase profits, by doing the necessary calculations to aid insurers analytical capabilities.(2)
"Technology is changing the way insurance companies do business to make it better for the end-users, whether they are prepared for that change or not," says Helms. "Traffk is leading that necessary change."
About JOTO PR Disruptors ™
After doing marketing research on a cross-section majority of 5,000 CEOs of fast-growth trajectory companies and finding out exactly how they used PR, how they measure it and how they wanted the PR industry to be different, PR veteran and innovator Karla Jo Helms created JoTo PR™ and established its entire business model on those research findings. Astute in recognizing industry changes since its launch in 2009, JoTo PRTM's team utilizes newly established patterns to create timely PR campaigns comprising both traditional and the latest proven media methods. This unique skill enables them to continue to increase the market share and improve return on investment (ROI) for their clients, year after year—beating usual industry standards. Based in Tampa Bay, Florida, JoTo PRTM is an established international public relations agency. Today, all processes of JOTO are streamlined PR services that have become the hallmark of the JoTo PR™ name. Visit  http://www.jotopr.com/. 
About Traffk
Traffk is an innovative insurance underwriting and distribution platform designed to build and launch modern insurance products and brands that scale. With more than 25 years combined leadership in insurance and AI, Paul Ford and Glenn Hibler co-founded Traffk as a solution to the problems of inefficient, assumption-based underwriting and slow processing in the insurance industry. Traffk's goal from the start has been to comprehend the risks and modernize the insurance underwriting process by leveraging modern-day tools. Traffk enables risk bearers to leverage the underwriting process with its data-enrichment technology and integrates and analyzes data to glean insights pertinent to insurance. Traffk works with agents as partners, providing them with the digital tools to work with an efficient sales process and engage consumers with a fast, accurate process for insurance policies, changing the insurance landscape for the better, forever. Visit traffk.com/.
1. Gu, Mark, Sanjay Kaniyar, Krish Krishnakanthan, and Jens Lansing; Top ten myths of technology modernization in insurance; McKinsey; June 20, 2020; mckinsey.com/industries/financial-services/our-insights/top-ten-myths-of-technology-modernization-in-insurance
2. How AI and Machine Learning Are Disrupting Reinsurance Portfolio Optimization; June 27, 2018; Global Reinsurance; globalreinsurance.com/news/how-ai-and-machine-learning-are-disrupting-reinsurance-portfolio-optimisation/1427523.article