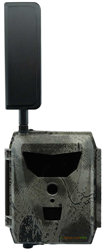 "The Spartan GoLive is a technological breakthrough. Users can now receive a notification when their camera detects motion, then log in to view live streaming video. In a security application, owners can now distinguish false alarms from real break-ins and respond accordingly."
SPRINGFIELD, Mo. (PRWEB) March 09, 2021
Trail cameras capture photos or video upon detecting motion, which allows owners to monitor anything from small animals to trespassers on their property. This technology started with basic memory card storage but has now evolved to live stream video with the launch of Spartan GoLive. Without the need for Wi-Fi or electricity, this highly anticipated game camera is a truly mobile solution that can be set up in minutes.
"The Spartan GoLive is a technological breakthrough," said Rich Howell, Owner, Trailcampro. "Users can now receive a notification when their camera detects motion, then log in to view live streaming video. In a security application, owners can now distinguish false alarms from real break-ins and respond accordingly."
Since opening in 2003, Trailcampro has tested and reviewed thousands of game cameras. Ratings are based on trigger speed, recovery time, flash range, battery life, lens angle, and detection range/angle/area. With a score of 88/100, the Spartan GoLive streaming game camera has claimed second place overall for 2021 cellular trail cameras. Not only is live stream video accessible when the camera detects motion, but it's also GPS enabled. Therefore, users can track down the camera if it's stolen or misplaced.
Another key feature of the Spartan GoLive trail camera is the external power jack. Attach a solar panel and this camera can operate indefinitely with sufficient sunlight. If you prefer batteries, the GoLive game camera can last up to 9 months on 12 Energizer Ultimate Lithium AAs. In fact, Trailcampro awarded the GoLive a 100/100 battery life rating.
GoLive streaming capability is made possible through a Verizon or AT&T data plan provided by Spartan. Users don't have to use the same service as their cell phone plan and their selection should be based on the best service in the area. A range of data plans is available to coincide with the user's streaming frequency.
Whether users are interested in security or monitoring wildlife, the Spartan GoLive trail camera has proven to be a revolutionary system. To purchase or obtain more information, visit trailcampro.com or speak to one of their trained experts at 1-800-791-0660 M-F, 9-5 EST.