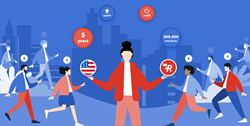 By committing to support the US companies in reskilling and upskilling their workforces we want to make sure that people are finding the best opportunities and are equipped to thrive in the new economy.
MOUNTAIN VIEW, Calif. (PRWEB) April 30, 2020
Rallyware announced that they are signing the White House's "Pledge to America's Workers." In committing to this historic pledge, the company promises to reskill and upskill 500,000 individuals in the next 5 years. Among the most sweeping series of changes to affect today's American workforce, the White House's initiative comes at a time when those negatively impacted by the COVID-19 epidemic will face significant challenges moving forward. Calling on States and organizations within the private sector to invest in opportunities for "training and reskilling workers for high-demand occupations and the industries of the future," the White House is taking important steps to not only help better prepare the country's workforce for future challenges but also to ensure that businesses within all sectors are able to navigate a remote work culture.
What many witnessed in light of the events of the past few months, were companies that fell short when it came to redefining how their teams conduct business. As a result, major disruptions were felt; workers were laid off and furloughed in massive numbers, and productivity for countless businesses plummeted. In large part, this was because organizations were uncertain as to how to manage, train, and nurture a workforce that suddenly became remote.
While perhaps the full picture in terms of the number of individuals who were abruptly transitioned to working remotely isn't clear yet, we do know that it's a far greater percentage than those who, according to the Federal Bureau of Labor Statistics, worked from home in 2019. Approximately 7% of US workers had flexible workplace options last year. Obviously, the remote work movement has hit hyperdrive; a recent Gallup poll suggests that by the end of March just over 60% of Americans were working remotely in light of COVID-19 measures.
What preliminary research has shown is that companies that have tools like Rallyware have been able to swiftly boost new learning content for their remote teams by 22%; workforces are actively engaging in learning with 160% more learners than usual; this translated into a 10% increase in their productivity even while working remotely. Technology capable of delivering personalized daily tasks and learning opportunities regardless of location and from any device is what has helped keep many businesses up and running during the crisis.
Rallyware CEO, George Elfond, offered: "I strongly believe that when people are provided with the right personalized learning opportunities at the right time, they grow professionally and greatly contribute to the business growth." In light of the White House's pledge, government organizations and private sector firms are coming together to ensure that in the future businesses have the capacity to prevent major issues when facing a crisis, and also, they are helping workers who are at risk of their jobs becoming obsolete given the threat of automation. Elfond vowed: "By committing to support the US companies in reskilling and upskilling their workforces we want to make sure that people are finding the best opportunities and are equipped to thrive in the new economy."
When things do shift back to a new "normal," companies have to be ready to provide instantaneous, personalized, and engaging learning experiences in their efforts to train their teams more effectively and thus be prepared to navigate a new work culture. It's not the future of work—it's the reality of work right now and going forward. This is why Rallyware is determined to stand by this much-needed and ever-so critical pledge.
ABOUT RALLYWARE
Rallyware is a mobile and web technology that reinvents enterprise training by connecting learning activities with operational and performance data. Its proprietary Machine Learning algorithms enable companies with large remote and distributed workforces to deliver personalized learning activities based on each individual's performance data. For more details, visit the Rallyware website.