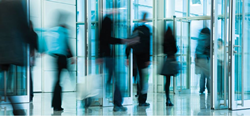 "The combination of Traka and OnGuard allows companies to control access and permissions, monitored by OnGuard, to track who checks out vital keys and equipment. It simplifies and improves security while reducing administration overhead."
ORLANDO, Fla. (PRWEB) November 15, 2021
Traka's key and asset management system interfaces with Lenel's OnGuard® access control security system
Traka announced it has received LenelS2 factory certification for Onguard® as a LenelS2 OpenAccess Alliance Program (OAAP) partner. Traka's key and asset management system interfaces with the OnGuard control system and provides seamless, single-credential access to property secured by Traka.
"Traka has completed the required factory testing at LenelS2 to validate the functionality of its interface to OnGuard. This partner interface provides regional security and control over important company assets," said John Marchioli, OAAP product management, LenelS2. "We look forward to their continued involvement in the LenelS2 OpenAccess Alliance Program."
"We're excited about this latest certification with LenelS2. Our continued partnership ensures our mutual customers have the latest in innovative access management solutions," states Wayne Stant, Product Director, Traka. "The combination of Traka and OnGuard allows companies to control access and permissions, monitored by OnGuard, to track who checks out vital keys and equipment. It simplifies and improves security while reducing administration overhead."
Traka provides electronic key and equipment management solutions, allowing organizations to secure, manage, and audit the use of their important physical assets including facilities, equipment, machinery, and vehicles. Traka's products can be used stand-alone or integrated with many of the world's leading access control systems.
About Traka
Traka is the global leader in intelligent management solutions for keys and equipment. Our solutions help all types of organizations better control their important assets, improving productivity and accountability, and reducing risk in critical processes.
We continuously invest in the development of our technology to provide leading, innovative, secure, and effective real-world solutions to the challenges that organizations face in managing keys and equipment. Our solutions are tailored to customer needs and requirements, providing the most value and impact on their business. Traka is a global organization with local support working to defined processes, so that we are local when you need us and global when it counts.
Traka is part of ASSA ABLOY Global Solutions, dedicated to reimagining how people move through their world. Our expertise in customer journey mapping, innovation, and service design leads to the invention of new security solutions that create value for our clients and exceptional experiences for end users.
Media Contact
Marketing Manager
Email: hfraser@trakausa.com
Phone: (407) 403-1673
Lenel and OnGuard are registered trademarks of Carrier Fire & Security Americas Corporation, Inc. in the United States and/or other countries.