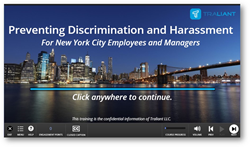 The NYC edition of our Preventing Discrimination and Harassment training provides organizations with an online training program that meets or exceeds the standards set by the new laws
MANHATTAN BEACH, Calif. (PRWEB) August 20, 2018
Traliant, an innovator in online compliance training for the modern workforce, today announced the availability of a New York City edition of its industry-leading Preventing Discrimination and Harassment training. The NYC version covers all the training requirements mandated under the Stop Sexual Harassment in NYC Act, a package of bills to address and prevent sexual harassment in the workplace. Mayor Bill de Blasio signed the legislation in May.
The legislation requires NYC employers with 15 or more workers to conduct sexual harassment training for all employees − including interns, supervisors and managers− within their first 90 days of employment, and then annually.
For more information about the NYC Edition of Preventing Discrimination and Harassment please visit: Stop Sexual Harassment in NYC Act Training.
"The NYC edition of our Preventing Discrimination and Harassment training provides organizations with an online training program that meets or exceeds the standards set by the new laws − and it's easy to deploy and measure engagement," said Mike Pallatta, Traliant CEO and Co-Founder. "The other benefit is that employees get a positive training experience that both educates and motivates individuals to recognize different forms of harassment and take appropriate action to stop it."
Traliant's sexual harassment training integrates bite-sized modules and interactive videos to explore the topics required under NYC's new laws: sexual harassment, discrimination, retaliation and bystander intervention. Other timely topics such as diversity and inclusion, unconscious bias and workplace civility are also covered. Like all Traliant courses, the NYC Edition of Preventing Discrimination and Harassment focuses on raising awareness and influencing positive behavior – important steps in creating a safe, respectful, harassment-free workplace.
About Traliant:
Traliant was founded by industry veterans from some of the world's most successful compliance training companies to meet the challenge of transforming compliance training from boring to brilliant. Backed by Martinson Ventures, Traliant delivers immersive, bite-sized training on an eLearning platform that enables fast and easy customization. For more information visit:: http://www.traliant.com and follow us on Facebook, LinkedIn and Twitter.