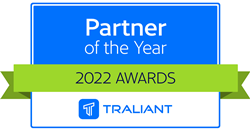 "The Partner of the Year awards showcase the best of our growing partner community and their outstanding efforts to enhance training experiences and effectiveness within organizations." Mike Stankowitsch, Traliant, Vice President of Partnerships
MANHATTAN BEACH, Calif. (PRWEB) February 16, 2023
Traliant, an innovator in online compliance training, today announced recipients of its 2022 Partner of the Year awards, recognizing their outstanding achievements across 3 categories, including platinum, reseller and innovative sale.
2022 is the first year Traliant has recognized members of its Partner Program with achievement awards for helping their customers address business challenges using Traliant's HR, legal and compliance training solutions. Traliant's Partner of the Year awards will be an annual celebration of partners who have demonstrated outstanding results.
"We congratulate these award-winning partners for their commitment to providing modern, engaging compliance training that helps organizations build a culture of ethics, compliance and positive behaviors and improve retention, productivity and performance," said John Arendes, Traliant CEO.
Mike Stankowitsch, Vice President of Partnerships at Traliant, added, "The Partner of the Year awards showcase the best of our growing partner community. I can't thank the winners enough for their outstanding efforts to enhance training experiences and effectiveness within organizations and look forward to continuing to work with them to strengthen their customer relationships."
2022 Partner of the Year Award Winners

Traliant's Platinum Partner Award was presented to Go1 and OpenSesame, for their outstanding, or platinum level, performance throughout the year to support Traliant's mission to positively impact organizations, work cultures and employees.
Traliant's Reseller Partner of the Year Award was presented to Schoox, for solving complex challenges to deliver exceptional value to their customers.
Traliant's Most Innovative Sale of the Year Award goes to Ethico for best leveraging customization services and translations to meet complex customer training requirements without compromising quality or ease of use.
For more information about Traliant's Partner Program, visit traliant.com/partner-program.
About Traliant
Traliant's mission is to transform online compliance training from boring to brilliant. We are helping thousands of organizations foster safe, ethical cultures of respect and inclusion with behavior-based solutions that can be easily customized to their industry, culture, and branding. Backed by PSG, a leading growth equity firm, Traliant is ranked on Inc.'s 2021 and 2022 list of the 5000 fastest-growing private companies in America. For more information, visit http://www.traliant.com  and follow us on LinkedIn.