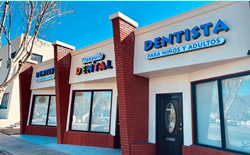 "You invest so much into building your business – I couldn't run the risk of being at the mercy of a landlord. Five years down the road, if a landlord doubles your rent, you can't just get up and move, you might lose your patients. Owning the real estate gives you freedom and stability."
LOS ANGELES (PRWEB) August 18, 2021
Dr. Nicole Mahanian of Tranquilo Dental worked for a variety of dental practices for several years. She loved her work, but something big was still missing – autonomy. Dr. Mahanian dreamed of having her own practice so she could always be sure of the highest standards of treatment and customer care. Owning the building was just as important to Dr. Mahanian as owning her own practice.
"You invest so much into building your business – I couldn't run the risk of being at the mercy of a landlord," she explains. "Five years down the road, if a landlord doubles your rent, you can't just get up and move, you might lose your patients. Owning the real estate gives you freedom and stability."
With help from TMC Financing, Dr. Mahanian was able to buy a building to build her own practice – and only had to put 15 percent down.
TMC Financing's SBA 504 Loan Program Put Independence in Reach for Tranquilo Dental
Dr. Mahanian realized that most conventional loans required large down payments and that was not feasible for her. With the SBA 504 Program, businesses can finance commercial real estate purchases or new construction with only 10 percent down payment. Businesses less than two years old, such as Tranquilo Dental, require 15 percent down.
TMC Financing's Southern California loan expert, Jennifer Davis, guided Dr. Mahanian through the SBA 504 process, making the process easy with her trademark responsiveness.
"Jennifer was amazing," Dr. Mahanian states. "She's so on top of it, she was always so responsive – I couldn't have asked for a better person on my team. She really makes you feel like you're the only person she's working with."
With Davis and the TMC Financing team helping every step along the way, it was obvious that the SBA 504 loan was the best option for Tranquilo Dental.
Davis recognized that Tranquilo Dental was a perfect fit for SBA 504 financing. "Many dental and medical professionals don't realize that the SBA can help them as they establish their new practice," explains Davis. "When qualifying them for financing to purchase a building, they take into account their industry experience. It was a pleasure to help Nicole get from her vision to reality."
About TMC Financing
TMC Financing is the no. 1 provider of SBA 504 commercial real estate loans in the Western Region of the U.S., helping small businesses expand throughout California, Nevada, and Arizona.
Founded in 1981, TMC Financing has funded projects worth more than $10 billion across California, Nevada, and Arizona. About 6,000 businesses have benefited from this financing, resulting in the creation of an estimated 60,000 jobs.