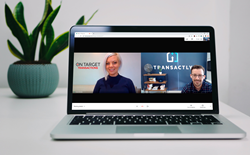 "Transactly is designed to simplify and streamline real estate transactions, to help clients be more efficient and out-perform industry standards. The acquisition of On Target allows us to offer an even larger number of experienced TCs across important US Markets," Bryan Bowles, CEO Transactly
ST. LOUIS (PRWEB) October 08, 2020
Transactly, the leading Real Estate Transaction Platform providing Tech-Enabled Transaction Coordinators across North America, officially commenced the acquisition of On Target Transactions, a premier real estate transaction coordinator service operating in select markets across the US. On September 1, 2020, the two companies officially combined forces to better serve real estate agents, teams, brokerages, and everyone else involved in real estate transactions. The merger is expected to be completed November 1, 2020.
"Transactly is designed to simplify and streamline real estate transactions. Our proprietary technology helps those we serve - and our Transactly Coordinators - to be more efficient and out-perform industry standards. The acquisition of On Target Transactions allows us to offer an even larger number of experienced Transaction Coordinators across important US Markets like Texas, Colorado and North Carolina where both Transactly and On Target have been thriving," explained Transactly CEO, Bryan Bowles.
Transactly has retained all existing On Target staff; and has enrolled the transaction coordinators into their stringent training program to ensure even greater client experiences. Gosia Shierlaw, President of On Target Transactions, has also joined Transactly as their TC Deployment Manager.
"I'm thrilled to blend the On Target Transactions team with Transactly. Culturally it is a great fit, and Transactly's proprietary technology and extensive, ongoing, training program is going to help the transaction coordinators provide an unparalleled level of service to our already happy customer base. On Target clients can rest assured that service levels will continue to rise," gleamed Gosia Shierlaw.
Transactly has experienced tremendous growth in 2020; and received the prestigious award of selection into the National Association of Realtors REach Class of 2020. The acquisition of On Target Transactions provides the company with an even larger network of experienced real estate transaction professionals to handle the expansion. "We're poised for exponential growth going into 2021 and are very excited to have Gosia and her team at On Target Transactions officially become part of Transactly," praised Bowles.
About Transactly
Transactly is headquartered in St. Louis, Missouri, and was founded in 2017 by Bryan Bowles. Transactly's mission is to be the platform of choice for the people and companies involved in real estate transactions. Transactly's platform provides the largest team of tech-enabled transaction coordinators in North America.