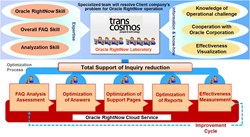 "Oracle Japan is warm-heartedly welcoming transcosmos' announcement on the upcoming launching of their 'Oracle RightNow Operational Support Service'." Shigeru Shiinoki, Executive Vice President of Application Business, Oracle Japan
Tokyo, Japan (PRWEB) November 05, 2013
transcosmos, inc., (Headquarters: Tokyo, Japan; President and COO: Masataka Okuda; TSE First Section: 9715; hereafter, transcosmos) collaboration with Oracle Japan Corporation (Headquarters: Tokyo, Japan; President and CEO: Derek H. Williams; hereafter, Oracle Japan), provides "Oracle RightNow Operational Support Service" to support sales, introduction of application after purchase, and operational support for "Oracle RightNow Cloud Service" (hereafter, "Oracle RightNow"), a cloud type application by Oracle Japan, all of which starts as of today.
"Oracle RightNow" is a cloud type application product, which provides various functions that are necessary for customer support activities through a variety of devices. This application centrally accumulates and manages customers' inquiries, promotes customers' self-resolution rate, enhances customer experience value, and also brings cost-reduction to customers' businesses at the same time by applying all those knowledge to the appropriate Web sites, call centers, and social media.
At transcosmos, based on its solid performance record in the past on operational services in supporting call centers, knowledge management, and social media, it will confidently provide the new "Oracle RightNow" operational support as an "on-site service" to its customers, whom have purchased and implemented the use of "Oracle RightNow" to their businesses. In preparation of launching this service, transcosmos has created a new knowledge management specialists team, "Oracle RightNow Lab Team", within the company. A thorough training on "Oracle RightNow" will be provided to these team members, whom are seasoned technicians themselves in creating FAQ contents, and will be fostered as professional technical creators. Upon completion of their through training at transcosmos' facility, each technical creator will be assigned to a particular customer's site as an on-site technician and will provide the applicable services: from tuning with the maximum use of the functional features that "Oracle RightNow" has to offer, creating contents regarding Q&A's and troubleshooting, and to even monitoring of social media. In doing so, these technicians will help bring about reducing the customer service cost and maximizing the value of customer experience in each customer's business.
Service Menu for On-site type "Oracle RightNow Operational Support Service"
1. FAQ Analysis Service
A technical creator specializing in analysis will analyze the relativity between the tendencies of the client's customers' inquiries and the client's existing FAQ contents, then summarize suggestive ideas based on the analyses report to improve the contents. Technician will also provide the appropriate settings that will maximize the use of functions that "Oracle RightNow" has to offer.
2. FAQ contents creation / revision service
Technician will create or revise FAQ contents. The finished contents will be provided in the most appropriate and optimized style for each client with the use of "Answer" and/or "Guide Assistance" that are provided as standard equipment.
3. "Oracle RightNow" Functions Tuning Service
By getting a clear and precise understanding from studying the analyses report, technician will perform functions tuning jobs such as "Register Search Words", "Reset Report Function", and "Review Work Flow" to maximize the use of the functions that "Oracle RightNow" has to offer.
4. General contents creation service
The most precise and appropriate contents made by a professional contents creator that optimizes each customer's preference and the type of business will be sold.
"Oracle RightNow Operational Support Service" Introduction Example
Client: A Telecommunication Company

The client has been receiving increasingly high volume of inquiries lately by phone calls and emails, and was absolutely necessary for them to find a way to improve their information processing method to meet this demand. They needed customers to perform self-resolutions on their own, yet keeping their costs down.
FAQ contents cover rate analyses, FAQ creation, support page optimization
30% reduction on email inquiries, 20% reduction on call volume (compared to those numbers between February and May, 2013.)
transcosmos has received the following comment from Mr. Shigeru Shiinoki, Executive Vice President of Application Business, Oracle Japan.
"Oracle Japan is warm-heartedly welcoming transcosmos' announcement on the upcoming launching of their 'Oracle RightNow Operational Support Service'. 'Oracle RightNow Cloud Service' has been implemented by many clients here in Japan because the cloud service improves customer experience for their businesses. In today's market, it is getting difficult to differentiate one product in particular from many other similar ones solely by its functions or pricing. In order for their business to compete their competitors, it is the key to success in today's business that providing a great customer experience. By integrating transcosmos' BPO service of its customer support business and Oracle Japan's IT solutions and providing them together to our customers, we can comprehensively support clients to improve their customer experience."
transcosmos provide technical and support services to many clients and many businesses. It fosters and assigns highly-skilled contents creators who are not only highly experienced in creating FAQ knowledge management, but are also thoroughly trained on "Oracle RightNow" so that they can perform their jobs at each of their client's site as an "on-site" technician. At the clients' sites, technicians will provide the total support and tailor-made services to client's specifications or preference, and provide sales support of contents that are prepared for 'pay-as-you-go' needs. transcosmos provides a variety of services and help make each client's unique needs to be met.
transcosmos is a registered trade name or trademark of transcosmos inc. in Japan and other countries.
Other company names and product or service names mentioned are registered trade names or trademarks of various other companies.
About transcosmos inc.
transcosmos launched operations in 1966. Since then it has combined superior "human resources" with the most up-to-date "technological" capabilities to enhance the competitive strength of its corporate clients by providing them with high value added and superior services. It provides overall IT outsourcing services such as Call Center Services, Business Process Outsourcing Services, and Digital Marketing Services either as standalone solution or as combined services to its corporate clients to optimize their marketing efficiencies, to expand sales and gain new customers in E-Commerce business, and to improve operational efficiency and reduce clients operational cost for back office and information system operations. Further, these services have been expanded beyond Japan, globally, centered in Asia. transcosmos aims to be the "Global IT Partner" of its corporate clients to provide them with high quality outsourcing services on a global scale.
Contact for news media inquiries
Inquiries from the media should be forwarded to transcosmos inc.
Public Relations & Advertising Department
Mail: pressroom(at)trans-cosmos(dot)co.jp