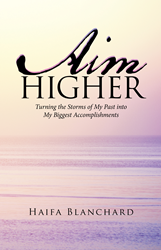 "When you have been stuck in a negative mindset, it takes a lot of effort and courage to transform your life and change your perspective," Blanchard said, "However, it is very beautiful when you have reached the other side of the journey."
MIAMI (PRWEB) June 07, 2019
Haifa Blanchard, a woman who experienced a plethora of disheartening life experiences, recently published "Aim Higher: Turning the Storms of My Past into My Biggest Accomplishments" – an inspiring memoir about the journey she went through to transform her life. Concluding with tangible life tips for readers, this book doubles as a compelling self-help guide for those who are feeling defeated or lost.
After having a near-death experience at the age of eight and suffering from a variety of health issues, Blanchard's faith and outlook on life were depleted. She was confused by why God would let such terrible things happen to her and continued to live her life with a very negative mindset. However, deep down she knew that she wanted to make a change. One day, she made a conscious decision to rebuild her life and faith. In "Aim Higher," she chronicles how she worked on her spirituality by building a relationship with God and finding peace, truth and authenticity.
"When you have been stuck in a negative mindset, it takes a lot of effort and courage to transform your life and change your perspective," Blanchard said, "However, it is very beautiful when you have reached the other side of the journey. I hope that, by sharing my life experiences, I can inspire readers to take control of their lives and thrive."
Blanchard includes valuable sections such as: "Address Your Building Blocks" and "Embrace Who You Are" to provide advice for readers. By sharing her story, Haifa wants readers to know that they are not alone in their struggles – whether it is their health, career path or spiritual journey.
"Aim Higher: Turning the Storms of My Past into My Biggest Accomplishments"
By Haifa Blanchard
ISBN: 978-1-9822-1939-0 (softcover); 978-1-9822-1940-6 (hardcover); 978-1-9822-1945-1 (electronic)
Available at the Balboa Press Online Bookstore, Amazon and Barnes & Noble
About the Author
Haifa Blanchard was leading a very downtrodden life after a near-death experience, suffering from a variety of health issues and failing to pass her CPA exam. She knew that she wanted to change her life around for the better. After finding her spirituality and working hard to breed positivity in her life, she has transformed her life and landed her dream job. Blanchard currently works as a director of finance and business operations in Miami, Florida. To learn more, please visit: http://www.HaifaBlanchard.com.
For Interview Requests & Review Copies, Please Contact:
LAVIDGE – Phoenix
Krista Tillman
480-648-7560
ktillman(at)lavidge.com
###