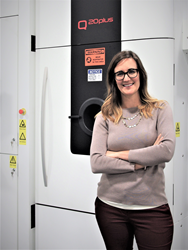 I am excited to lead the TMA team on a world class production journey and unlock the full build volume and throughput potential of the Q20plus platform.
WINSTON-SALEM, N.C. (PRWEB) November 02, 2018
The scope of the agreement includes The Barnes Group Advisors (TBGA) providing strategic leadership with Laura Ely as President of TransMachine Additive (TMA) and The Barnes Group Advisors providing TMA with technical support via the Technical Excellence Resource Model (TERM). The Technical Excellence Resource Model allows TMA to tap into TBGA technical expertise for application development without the overhead burdens of a large business.
"We are excited to support TMA's growth via the TERM concept," says John Barnes, Managing Director, The Barnes Group Advisors. "It is a great opportunity to leverage our diverse experience in additive manufacturing to reduce risk and accelerate time to profitability."
The objective of the collaboration is to build on TMA's mission to provide world class EBM additively manufactured products in an agile, cost-effective, and customer-focused environment.
"I've always had a vision to expand our high quality, precision manufacturing presence in the US," says Barry Leonard, CEO, TransMachine Additive. "With our investment in EBM additive manufacturing and the industry leading business and technical expertise of The Barnes Group Advisors, that dream is rapidly becoming a reality."
TMA is ready to support customer programs ranging from early application development to serial production. Full product solutions are available with project management including delivery of fully finished parts. TMA operates out of a 22,000 square foot ITAR registered production facility in Winston-Salem, North Carolina. They currently operate an Arcam Q20plus and Arcam A2X system. TMA plans to be AS9100 certified by early 2019.
To learn more about TransMachine Additive, please visit http://www.trans-machine.com/additive.
TransMachine Additive is a division of TransMachine Technologies (TMT). TMT is a Global Supplier of precision components to the Railroad, Mining, Automotive and OEMs. TMT offers high precision components through Additive Manufacturing, Casting, Precision Machining and Fabrication.
The Barnes Group Advisors is the largest independent additive manufacturing engineering consultancy. Headquartered in Pittsburgh, Pennsylvania, TBGA has presence in Australia, the United Kingdom, Austin, TX, Phoenix, AZ, Youngstown, OH, St. Louis, MO and State College, PA. TBGA helps companies work through their AM adoption strategy via strategy, design, leadership, training, metallurgy, and economics, and is comprised of seasoned specialists with well over 100 years of experience in additive manufacturing.