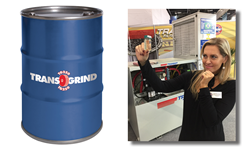 Even after 8 years, oil used in Transor Systems still meets specs and performs well.
ELK GROVE VILLAGE, Ill. (PRWEB) October 17, 2019
Transor Filter announces that they have surpassed the 25,000 drum mark in shipments of TransOgrind TG-250. Introduced in 2000, this quality grinding oil has become the preferred choice for manufacturers of carbide cutting tools due to its performance characteristics and overall value.
"This product is used all over the world," stated Irv Kaage, President of Transor Filter. "Most of our customers choose TG-250 because its low viscosity results in maximum flow through our filter elements resulting in extremely long filter life. We have some customers that have used the product for over eight years in Transor Systems and the oil still meets specs and performs well."
Transor Filter specializes in providing filtration solutions to those in the cutting tool and EDM industry. Their One Micron filtration capability and self-cleaning filter elements create and maintain a predictable environment for faster cycle times and guaranteed quality.
Transor Filters feature automated cleaning of the filter elements in a staggered fashion so that clean oil is always being produced, even when the cleaning procedure is in operation. A sludge handling device is also available for total automation of the process.
For complete details, contact Transor Filter USA; 515 Busse Road, Elk Grove Village, IL 60007; 847.640.0273, FAX: 847.640.0793 or email info@transorfilter.com
ABOUT TRANSOR FILTER
Transor Filter is a world leader in providing filtration solutions for a variety of manufacturing applications such as grinding, honing, lapping, super finishing and EDM. In addition, Transor manufactures a complete line of high performance EDM dielectrics and grinding oils. Over 18,000 Transor units have been installed in over 30 countries. Transor has offices in the US, Latin America, Europe and Asia providing sales and service.