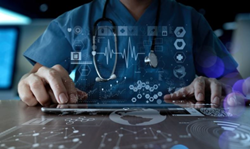 Remote cardiac monitoring systems with extensive data storage, round-the-clock patient monitoring, and real-time data deliver the information physicians need to provide the best available care
WALTHAM, Mass. (PRWEB) November 07, 2022
When patients are critically ill, intrahospital transport (IHT), moving patients within the hospital, can cause significant complications.(1) Patients may be moved to other hospital areas for diagnostic testing or transferred to another unit. Regardless of the length of stay in the hospital, IHT statistically increases the risk of complications and death.(2) Nearly half of all patients transported within a hospital experience an adverse event.(3) To minimize the risk, IHT must be well-planned, executed efficiently, and include the proper monitoring equipment and staff. Equipment needs to be set up for transport without the risk of tangled cords or lost power. When an IHT is executed by trained personnel using remote telemetry, even critically ill patients can be safely transported.(4)
The most effective transport monitoring systems can eliminate dangerous data gaps during transportation. Cardiac monitors are a vital component of IHT for critically ill patients. They must seamlessly interface with a subset of mobile diagnostic devices, as well as hospital IT systems. Wireless systems like remote cardiac monitoring can improve care during IHT by ensuring that the patient's vital signs and ECG are continuously tracked.
"Remote cardiac monitoring systems with extensive data storage, round-the-clock patient monitoring, and real-time data deliver the information physicians need to provide the best available care," says Stuart Long, CEO of InfoBionic, a Massachusetts-based digital health company.
In addition to reducing the risks associated with IHT, advanced virtual telemetry can meet the needs of most patients, no matter where they are in the hospital. Some areas, like the ICU, have sophisticated stationary cardiac monitors that are mostly confined to one hospital area, leaving the potential for patients to go without adequate monitoring when transported to non-telemetry areas like radiology or cardiology.
Patients requiring a higher level of telemetry and complex medical equipment typically occupy hospital beds for a more extended period. Low-acuity patients can benefit from remote monitoring in less critical areas of the hospital or even in their own homes, liberating hospital beds for more acute patients.
InfoBionic is introducing the cloud-based MoMe™ ARC (Advanced Remote Cardiology) Platform that is intended to capture and deliver real-time cardiac data to near real-time cardiac monitoring data as patients shift from inpatient to outpatient. There are no limits to the level of medical complexity. The MoMe™ ARC Platform will allow for noninvasive and continuous cardiac monitoring for low-acuity to higher-acuity patients in both inpatient and outpatient settings. MoMe™ ARC technology is intended to support a range of compatible third-party RPM (remote patient monitoring) devices, such as blood pressure cuffs, oximeters, and scales.
Infobionic's remote cardiac telemetry monitoring system has the potential to reduce IHT risks, allowing for consistent, round-the-clock monitoring while possibly freeing up valuable in-hospital beds for higher-acuity patients and simultaneously providing continuous cardiac monitoring from hospital to home.
About InfoBionic
InfoBionic's digital technology has transformed the efficiency and economics of cardiac remote patient monitoring. The company's MoMe ARC platform vision is to remove the roadblocks hindering remote diagnosis and decision-making. The Massachusetts-based team of seasoned entrepreneurs have had successful careers in healthcare, IT, medical devices, and mobile technology and bring specific expertise in remote monitoring and cardiology. Visit https://InfoBionic.com/
References: 
1) Knight, Patrick; Maheshwari, Neelabh; Hussain, Jafar; Scholl, Michael; Hughes, Michael; Papadimos, Thomas; Alan Guo, Weidun; Cipolla, James; Stawicki, Stanislaw; Latchana, Nicholas. "Complications during intrahospital transport of critically ill patients: Focus on risk identification and prevention." 2015, PubMed Central, ncbi.nlm.nih.gov/pmc/articles/PMC4705572/.
2) Sokol-Hessner, Lauge; White, Andrew; Davis, Katherine; Herzig, Shoshana; Hohmann, Samuel. "Interhospital transfer patients discharged by academic hospitalists and general internists: Characteristics and outcomes." November 14, 2015, National Library of Medicine, pubmed.ncbi.nlm.nih.gov/26588825/
3) Hajjej Z, Gharsallah H, Boussaidi I, Daiki M, Labbene I, Ferjani M. Risk of mishaps during intrahospital transport of critically ill patients[abstract]. Tunis Med. 2015 pubmed.ncbi.nlm.nih.gov/27126429/
4) Sethi, Divya; Subramanian, Shalini. "When place and time matter: How to conduct safe inter-hospital transfer of patients." 2014, National Library of Medicine, ncbi.nlm.nih.gov/pmc/articles/PMC3950432/