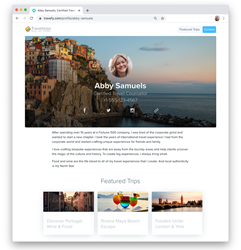 We want to help Advisors come out of this crisis stronger than ever.
LINCOLN, Neb. (PRWEB) March 19, 2020
Travefy – the leading proposal and itinerary management tool for travel advisors – announced over $100,000 in marketing support on behalf of Travel Advisors impacted by the global Coronavirus (COVID-19) pandemic.
As a part of this commitment, Travefy will be providing all current users free access to its lead generating marketing profiles. Travefy will further provide free standalone access to this tool for any Travel Advisor, including those who are not current Travefy subscribers, as part of the company's commitment to the global travel industry.
To support the Travel Advisors, Travefy is launching a new enhanced free version of its Marketing Profile PowerUp that currently retails for $108 per Advisor per year and Travefy anticipates sign-ups from 1,000+ non-community members in the first month in addition to current subscribers.
"These are unprecedented difficult times for the global economy and the travel industry is acutely affected - our business included," notes Travefy CEO David Chait. "We want to help Advisors come out of this crisis stronger than ever."
"As a part of our commitment to the Travel Advisor ecosystem, we recognize that free access to lead generation tools is a way we can help ALL Advisors - not just our current paying customers - grow their digital presence amidst this trying time."
Travefy's marketing profiles help Travel Advisors effectively capture more business with discoverable search-engine optimized online profiles to showcase their expertise and display rich sample trip itineraries. Furthermore, lead generation forms help Advisors capture new leads at the point of inspiration.
"These online tools are fully optimized for search engine discoverability and social sharing, allowing Travel Advisors to increase their visibility and reach new clients," notes Travefy CTO Chris Davis. "Our industry is close-knit and we want to help Advisors productively market their services during the current situation."
In addition to providing free access to all current users and over $100,000 worth of free access to the wider Advisor community, Travefy has further committed to expanding marketing, search, and discoverability of these profiles to help all Travel Advisors capture the uptick in travel that is sure to arise once travelers begin making bookings en masse again.
A STRONG RESPONSE
Many Travel Advisors have already shared their support for this announcement.
Scott Stein of Extraordinary Adventures in Clermont, Florida shares, "While everyone is seeing business go out the window during this time, it's nice to see some light shining through that darkness. There will be a tomorrow and you will need to prepare for it. Travefy already has an extraordinary product and an even more extraordinary support team, so offering the Marketing Profile shows me their level of commitment to Travel Agents. They're giving us a remarkable tool to experiment with, and ultimately perfect, during this unpredictable and unprecedented global crisis - a tool that will prove to be very effective once business picks back up again, as it undoubtedly will! Knowing Travefy has our back is reassuring."
And Sarah Gemba of Spain Savvy in Seville, Spain adds, "I am appreciative of a free tool during this time. Once I am done with immediate trip cancellations I will definitely be focusing on using marketing tools to get back up and running again."
To learn more or gain free access simply go to Travefy.com/lead-generation or email professional@travefy.com.
ABOUT TRAVEFY
Travefy's mission is to power the success of travel professionals. Our award-winning proposal, itinerary, and client management tools help Travel Advisors and professionals save time, impress clients, and sell more.
Travefy powers thousands of travel businesses ranging from small, independent travel advisors to the largest travel agencies, consortia, and organizations. Travefy has been featured in The New York Times, The Wall Street Journal, and Forbes among other publications and has won numerous industry honors including the ASTA Entrepreneur of the Year Award.
For more information please see: https://travefy.com
For press assets please see: https://travefy.com/press