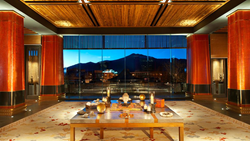 Tibet Travel Org CITS has good relationships with local hotels and is able to book a hotel at the best price. If you need any help, do not hesitate to contact us.
Tibet (PRWEB) May 15, 2014
"Lhasa is one of the most intriguing and beautiful cities in the world. It attracts millions of travelers every year," said Mrs. Catherine Jing, manager of Tibet Travel Org CITS. "Many international luxury hotels and resorts also select this city as the home of their property."
"Currently, there are several international hotels in Lhasa, such as St. Regis, Shangri-La, Sheraton and Intercontinental," Catherine said. "They offer high-end tourists the opportunity to experience Tibet's mysterious traditions and stunning beauty while enjoying premium amenities and services."
1. St. Regis Lhasa Resort
Owned by Starwood Hotels & Resorts Worldwide, St. Regis Lhasa Resort boasts 150 luxuriously appointed guest rooms and 12 spacious villas and suites, including presidential suites. All are equipped with plasma TVs, High Speed Internet Access, and spacious marble bathrooms. From each of the 162 guest rooms, villas and suites, one can get awe-inspiring views of the Himalayas and the Lhasa Valley. Its guest accommodations feature distinctive architectural details and décor that entwine modern luxury with traditional Tibetan elements. In addition, the resort has been designed as a green international luxury hotel, using solar and geothermal energy and underground water recycling system to save resources. Located on Jiangsu Road, it is within walking distance to the UNESCO world heritage sites in Lhasa, including Potala, Jokhang and Norbulingka which are must-sees for a tour in Lhasa.
2. Shangri-La Hotel, Lhasa
As the newest property of Shangri-La Hotels and Resorts, the Shangri-La Lhasa Hotel opened on 17 April, 2014. It is also within walking distance to the UNESCO world heritage sites in Lhasa. Ten of its 289 contemporary guest rooms are long stay apartments. The rooms' modern décor is grounded in neutral colors and accentuated with the earthy reds, deep blues, and vibrant greens that are seen in traditional Tibetan dress. Traditional Himalayan accents such as turquoise stone, decorative metals, floral patterns and auspicious symbols complement the contemporary design. Seamlessly blending Tibet's rich culture and exotic natural surroundings, some of its rooms also offer fantastic views of Potala Palace. Visitors to Lhasa are advised to acclimate to the high altitude before exploring widely. To refresh and assist guests in doing so, the hotel has built the first oxygen lounge to be found in a hotel in Tibet.
3. Four Points by Sheraton Lhasa
Standing majestically on the bank of Lhasa River, Four Points by Sheraton Lhasa is only a 10-minute walk to Jokhang Temple and Barkhor Street and an 8-minute drive to Potala Palace. The hotel has 102 guest rooms, including twin, king-size rooms and suites. All rooms are warm and inviting with a contemporary design. Each room is equipped with a 32-inch flat screen LCD TV, free high speed internet access, mini bar and so on. Humidifiers and oxygen facilities are also on hand to ensure that the guests are always comfortable. The hotel also provides foreign currency exchange, ticket booking and laundry services, etc.
4. Brahmaputra Grand Hotel
Situated in the heart of Lhasa city, Brahmaputra Grand Hotel is a unique Tibetan style hotel. All its public areas and 185 guest rooms are filled with strong Tibetan flavor. In fact, it is not only a hotel, but also a museum. The whole hotel is full of ancient artifacts and treasures collected by the owner. Some are for sale. For recreation and relaxation, there are sauna and massage rooms. In addition, the hotel rooms overlook Potala Palace. Such a special hotel is quite popular among foreigners traveling in Tibet.
5. Lhasa Hotel
Lhasa Hotel to the northeast of Norbulingka, Dalai Lama's Summer Palace in western Lhasa, is only a ten minutes' bus ride to the majestic Potala Palace. Tibet's cultural, geographical and ethnic features were well integrated in its construction. It was honored as "garden-style" by the Lhasa City Gardening Association. The hotel has 505 rooms and suites, featuring Chinese Han, western and Tibetan styles. All are equipped with air conditioning, a mini-bar and other basic facilities.
"Since Lhasa is located at 3,650 meters above sea level, you need a good rest to acclimatize to the high altitude," said Catherine. "We highly recommend you to stay in a 4 or 5-star hotel if you can afford it."
About Tibet Travel Org CITS
Tibet Travel Org CITS (http://www.tibettravel.org), the top online Tibet tour operator, annually sends more than 1,000 individual travelers and over 100 tour groups to Tibet. It helps travelers to obtain the Tibet Travel Permit, book air/train tickets to Tibet and customize their tours. The company also keeps updating latest information about Tibet on Facebook (tibettravel.org) and twitter (@TibettravelOrg).