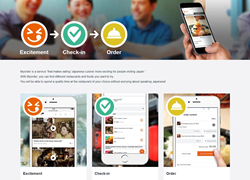 Tokyo, Japan (PRWEB) August 19, 2017
Last year, myorder, a company specializing in assisting travelers in Japan, announced a new service in which visitors can quickly and easily order food at local restaurants in Japan. After months of research regarding issues foreign visitors have in Japan, myorder has developed a clear-cut way to solve a common problem: the inability to order food at local restaurants for people who don't feel comfortable speaking Japanese.
myorder recruited native English speakers with varying language abilities in Japanese to help fine-tune the service and find the BEST possible way to assist travelers ordering local food in Japan. When traveling to foreign countries, people want an authentic experience. "Tourist traps" and trendy places do not satisfy the need for a REAL Japanese dining experience. The best places to eat are often out of reach for many foreign travelers due to a language barrier. "Foreigner-friendly" establishments with English speaking staff may be convenient, but in the world of food, convenience does not always equal quality.
The best places to eat are often restaurants off the beaten path, where locals go, as opposed to tourist restaurants that a paid guide suggested. For a real authentic experience with Japanese ambiance, travelers can now use myorder to go where they wouldn't have otherwise ventured for fear of being misunderstood. myorder's innovative service breaks barriers and builds memories.
myorder's service gets you delicious food in a few easy steps:

Excitement – Travelers search for local restaurants with unique flavors they want to try using the link: https://myorder.style
Check-In – Using a mobile device, users check-in to our service where they can see menus, view helpful images, and read descriptions in their own language.
Order – The selected menu items will be translated into Japanese for the restaurant. Users simply show their screen to the restaurant staff to order.
Experience mouthwatering Japanese cuisine like a native using myorder. Your tastebuds will be forever grateful!
About myorder: myorder is a Japanese company founded in 2016 by Katsumi Tsunoda, myorder CEO in Tokyo, Japan. myorder has developed partnerships with numerous Japanese restaurants in Tokyo, Osaka, Kyoto, and other major cities in Japan, and the partnerships are continuously growing.
Hideki Takita, Public Relations Manager
info(at)myorder.co(dot)jp