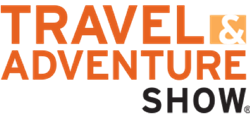 "Whether you consider yourself to be a novice traveler or a globe trotter, attending The Travel & Adventure Show is a must to discover your next travel destination."
SAN DIEGO (PRWEB) November 08, 2018
The Travel & Adventure Show is excited to announce its return to San Diego on Saturday and Sunday, January 19th and 20th, 2019 at the San Diego Convention Center. The nation's largest travel show will feature exhibitors from more than 200 global travel destinations, thousands of travel experts to help guests plan trips, and exclusive show-only travel deals for guests to take advantage of.
"Whether you consider yourself to be a novice traveler or a globe trotter, attending The Travel & Adventure Show is a must to discover your next travel destination," said John Golicz, CEO, Unicomm, producer of the Travel & Adventure Show. "As the largest travel show in the US, we are looking forward to providing our guests with insider tips from local and celebrity travel experts, stunning song and dance performances from around the world, and travel deals offered exclusively at the Travel & Adventure Show."
The San Diego Travel & Adventure Show will feature presentations by travel experts and celebrity travel personalities, offering guests a wealth of knowledge regarding tech travel hacks and much more. Speakers currently scheduled to present at the Travel Theater will include:

Josh Gates, Host, Executive Producer of Discovery Channel's Expedition Unknown
Peter Greenberg, Emmy Award-Winning Investigative Reporter and Producer and CBS News Travel Editor
Pauline Frommer, Editorial Director of the Frommer Guides and Publisher of Frommers.com
Patricia Schultz, Author of the New York Times Bestseller "1,000 Places to See Before You Die"
Wayne Dunlap, Author of Plan Your Escape and TripAdvisor Top 25 Travel Blogger
Attending the San Diego Travel & Adventure Show is packed with activities for attendees. Guests can get their pictures taken in their favorite destination at the Visit Redding Green Screen and even ride Segways around a professionally managed course. Peter Greenberg, Travel Editor for CBS, says, "The Travel and Adventure show is essentially one-stop shopping for great global travel information, ideas, and cutting-edge advice to help make all of us better travelers."
Attendees will be able to take in travel tips at multiple stages including:
Savvy Traveler Theater Stage—visitors will interact with travel experts on subjects ranging from packing and travel technology, to maximizing credit card reward points and what to do if disaster strikes while traveling.
Destination Theater— travelers will receive destination-specific information from local experts tied to travel best practices like when to go, how to get there, what to see, and off-the-beaten-path attractions from destinations such as Alaska, Africa, Taiwan, and Tahiti, among others.
Global Beats Stage— attendees can feel the beat and experience the rhythm of cultural dances and performances during the 20+ presentations slated to take place throughout the weekend.
MSC Cruises is the event's Major Sponsor, while Taiwan Tourism is the Supporting Sponsor. Contributing Sponsors include Cruise Planners, American Express Travel Company, and Baja Norte. The Photo Booth is sponsored by Visit Redding, CA.
The San Diego Travel & Adventure Show will take place on January 19th and 20th at the San Diego Convention Center. The show opens at 9:30 a.m. Saturday for travel professionals; the public can attend from 10 a.m. to 5 p.m. Saturday and from 11 a.m. to 4 p.m. on Sunday. Attendees can purchase single-day and two-day tickets online now for the discounted rate of $11/$18 with promo code: SDPR19 or on-site for $15/$22. Children 16 and under are free and on-site tickets can be purchased with cash only. For tickets and additional event information, visit http://travelshows.com/san-diego.
About Unicomm, LLC and the Travel & Adventure Show Series
UNICOMM LLC is an independent business-to-business communications company specializing in originating and managing world-class trade shows and conferences. Unicomm's properties include the nation's largest and longest running series of travel events, the Travel & Adventure Show in Washington, D.C., Chicago, San Francisco/Bay Area, Los Angeles, San Diego, Denver, Philadelphia, Dallas and Boston, which is new in 2019.