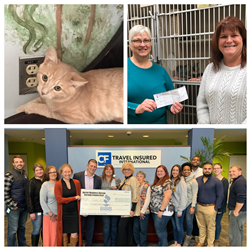 GLASTONBURY, Conn. (PRWEB) December 10, 2018
Travel Insured International, a travel protection company based in Glastonbury, CT, believes that a company's mission should embrace more than just its product or service. Honored to accept the Community Care Award presented by the Better Business Bureau (BBB) in October of 2018, Travel Insured is thrilled to share its philosophy to "Touch a Life. Make a Difference."
"Making a difference" is undoubtedly a company wide movement. Team TII involves the entire organization's participation in charity and fundraising events. Tina Gehris, Vice President of Licensing Account Management, started this program in 2011 to create an enthusiastic, empowering environment of giving back.
With an array of widely participated charity and fundraising opportunities every year – from toy drives to bake sales to blood drives to team walks – Team TII proves to be a community that isn't just bonded by a common career, but a common cause.
Travel Insured strives to be a humbling place to work. As a company, TII has grown from its roots as a very small business to an organization of over 150 employees. Travel Insured is grateful to receive the BBB's Community Care Award, as it stands as a treasured reminder that our mission isn't just insurance deep. Team TII has chosen to give the BBB's generous donation to Protector of Animals.
About Travel Insured:
Founded in 1994 by Peter Gehris, Travel Insured International is one of the leading travel insurance providers, offering the highest quality worldwide travel insurance protection for over 20 years. Located in Glastonbury, Connecticut, the company offers an array of travel insurance protection benefits including Emergency Assistance and Evacuation, Trip Cancellation and Trip Interruption Protection, Medical Insurance, Baggage Insurance, Airline Ticket Protection, and more. Travel Insured maintains relationships with specialty travel providers and tour operators, as well as provides 24/7 insurance assistance that allows you to travel relaxed, travel secure, and travel insured.