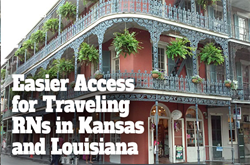 Kansas and Louisiana are welcome additions to the eNLC; great news for nurses with multistate licenses
BOCA RATON, Fla. (PRWEB) July 01, 2019
The enhanced Nurse Licensure Compact (eNLC) , which allows registered nurses, licensed practical nurses, and vocational nurses to hold one multistate license that enables them to practice nursing in their home state -- and other eNLC states, is growing on July 1, 2019. Kansas and Louisiana will join the eNLC on that day, bringing the number of participating states to thirty-one.
Travel nurses, so-named because they "travel" from location to location, fill short- and long-term staffing needs at hospitals across the U.S. Travel nursing agencies, like American Traveler, provide much-needed supplemental staffing, necessitated in part by a decades-long nursing shortage.
A compact nursing license allows travelers to practice in all member states without having to go through the sometimes lengthy process of securing a license to practice in each individual state. This can speed up the placement and onboarding time for travelers, in some cases by months.
"Kansas and Louisiana are two very welcome additions to the eNLC. Cities like New Orleans and Wichita are continually in need of high quality RN staff, and we love being able to send travelers to exciting locations like these -- now it's even easier, because they're in compact states." -- Mary Kay Hull, Vice President Recruitment, American Traveler
The creation and growth of the eNLC has been touted as a victory for nurses, healthcare facilities, and patients. It allows for greater movement of qualified, experienced nurses, which is a particularly important factor as the nurse shortage continues. This increased nurse mobility simplifies the hiring process for healthcare facilities, as they have access to a larger pool of excellent healthcare practitioners. High quality healthcare provided by practitioners at optimal staffing levels in turn impacts patient safety and satisfaction.
The expansion of the eNLC is also advantageous for medical facilities located within eNLC states who make use of contingent healthcare staffing during times of staffing shortages. These hospitals have access to a wealth of quality travel nurses who have already met the standardized licensing requirements of the eNLC and can be ready to start a travel nursing job in no time.
About American Traveler
American Traveler is a travel nursing agency that staffs healthcare professionals at more than 4,500 hospitals nationwide including over 80% of the largest hospital systems in the United States. American Traveler is GSA-approved and a preferred staffing source for temporary and permanent registered nurses, technologists, occupational therapists and physical therapists. The company has continuously demonstrated the quality of its healthcare staffing services by earning the Joint Commission's prestigious Gold Seal of Approval since 2005.