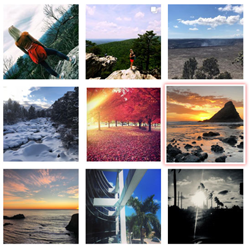 Thank you for picking my photo! I've made a lot of really good friends in Oregon, but I'm also really excited for my next assignment!
BOCA RATON, Fla. (PRWEB) December 06, 2018
American Traveler recently invited nurses, technologists and allied health professionals to share the Fall imagery that they've captured during their recent contingent staffing assignments. Travelers were asked to tag photos on Instagram and show the world what they had been up to in this photogenic season. As a thank you, the travel nursing agency offered a $200 gift card to one lucky shutterbug. Commonly known as healthcare 'travelers', these peripatetic individuals live out their career dreams -- moving to, and working in, short-term assignments at their choice of medical facilities around the country.
The selected Fall assignment photo of 2019 came from Jessica, a traveling Med-Surg, RN. Jessica shared a gorgeous image of the Oregon coastline at sundown.
Jessica's most recent assignment was in Oregon -- where one of her favorite pastimes is chasing the west coast sunsets. She has visited places like Yaquina Head, a national park near her housing in Oregon. She reports that she loves relaxing here in her off-hours and listening to sound of the waves. Jessica travels with her pet cat -- who was thrilled with his window perch in Newport, where he virtually stalked all the birds and seals in the bay.
From Jessica, "Thank you so much for picking my photo! My assignment is almost over, and I'm sad because I've made a lot of really good friends in Oregon. But I'm also really excited for my next travel assignment in Florida!"
Sounds like an amazing way to spend the season! Jessica is just one of the many healthcare professionals who enjoy the many advantages of travel nursing jobs -- while relying on the experience and support of respected healthcare staffing providers like American Traveler.
About American Traveler
American Traveler is a travel nursing agency that staffs healthcare professionals at more than 4,500 hospitals nationwide including over 80% of the largest hospital systems in the United States. American Traveler is GSA-approved and a preferred staffing source for temporary and permanent registered nurses, technologists, occupational therapists and physical therapists. The company has continuously demonstrated the quality of its healthcare staffing services by earning the Joint Commission's prestigious Gold Seal of Approval since 2005.