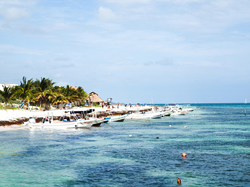 "Find a list of specific requirements at your destination country's U.S. Embassy website. If you are traveling to more than one country or region, you will need to meet the requirements for each location."
BALTIMORE (PRWEB) November 09, 2021
"Pre-COVID, all you needed was a passport," says Shane McCarthy D.O., "Nowadays, the list is much longer—and different for each destination."
"Conditions for tourist entry are country specific and may include: Proof of vaccination status; documented negative COVID test within a certain timeframe prior to arrival; certification of international medical insurance coverage— which may need to specify trip dates, set dollar amounts (e.g., coverage up to U.S. $50,000), and other funding minimums to cover medical costs, food, and housing in case of quarantine; health forms and attestations; and self-quarantine and/or retesting after arrival."
"Find a list of specific requirements at your destination country's U.S. Embassy website. If you are traveling to more than one country or region, you will need to meet the requirements for each location."
The report offers advice on travelling on public transportation, what to expect when flying and answers questions on enjoying a cruise.
With so many more considerations and requirements for post-pandemic travel, in the report, McCarthy provides detailed to-do lists of what one should do before travelling. She says:
Pre-Travel Checklist

Get Vaccinated with an FDA-approved COVID-19 vaccine. Keep proof of your vaccine—make copies of the card or take a picture. If you live in a state that logs your vaccines electronically or has vaccine passports, keep the link and/or download the app.
List COVID-specific requirements for your destination. Which documents do you need to present upon arrival? Pre-travel COVID test results? Proof of vaccination? Anything else? Be sure to check requirements for each leg of your trip, as they can vary.
List COVID-specific requirements for returning home. Do you need proof of a negative COVID test prior to boarding your plane back to the U.S.? Check CDC and State Department websites for the most up-to-date requirements. If you plan to stay in a small town or village, COVID testing may not be available. Plan extra days to get tested.
List further testing and self-quarantine requirements. Some destinations may require self-quarantining and/or further testing upon arrival. Check the U.S. embassy and local tourist board websites for each leg of your trip. You may also need to self-quarantine and/or get tested upon returning home. Check with local authorities.
Make a list of additional travel recommendations for your destination. Country and region-specific suggestions can be found on the CDC website.
The report also includes checklists lists for a month before, a week before and a day before travel to ease folks back into a more open world.
The full report can be found, here: Traveling Safely Post-Pandemic
Members of the media have permission to republish the article linked above once credit is given to Internationalliving.com
Further information, as well as interviews with our experts for radio, TV, or print, are available on request. Photos are also available.
For information about InternationalLiving.com content republishing, source material or to book an interview with one of our experts, contact PR Managing Editor, Marita Kelly, +001 667 312 3532, mkelly@internationalliving.com
Instagram: https://www.instagram.com/internationalliving/
Twitter: @inliving
Facebook: https://www.facebook.com/International.Living/
About International Living
Since 1979, InternationalLiving.com has been the leading authority for anyone looking for global retirement or relocation opportunities. Through its monthly magazine and related e-letters, extensive website, podcasts, online bookstore, and events held around the world, InternationalLiving.com provides information and services to help its readers live better, travel farther, have more fun, save more money, and find better business opportunities when they expand their world beyond their own shores. InternationalLiving.com has contributors traveling the globe, investigating the best opportunities for travel, retirement, real estate, and investment.