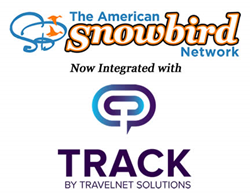 All of their properties can now be advertised to Snowbirds and other monthly vacationers, year-round, allowing a much higher probability of booking multi-month stays in otherwise low-revenue offseason or even more profitable shoulder-season months
FAIRHOPE, Ala. (PRWEB) November 27, 2019
TravelNet Solutions, provider of TRACK Hospitality Software, which is built around the industry's leading CRM, is excited to announce their partner integration with The American Snowbird Network, a solutions provided by Clearle. TRACK's integrated modules deliver the best end-to-end experience for management companies, owners, and guests.
American Snowbird, which prides itself on its top-notch central hub of listings tailored to the 'snowbird lifestyle', coupled with TRACKs data, allows owners to gain seamless access to specific pricing and tools to effectively compete in the evolving vacation rental marketplace.
"We are very excited about our partnership with TRACK. This combined integration will allow Vacation Rental Managers (VRMs) that already utilize TRACK's Property Management System (PMS) to seamlessly post any or all of their properties to our American Snowbird Network of websites. All of their properties can now be advertised to snowbirds and other monthly vacationers, year-round, allowing a much higher probability of booking multi-month stays in otherwise low-revenue offseason or even more profitable shoulder-season months", said Sean Beckham, president of Clearle Rental Niches and The Snowbird Company.
"With just a few clicks, owners and VRMs can push all the properties they manage out to our very high-visibility sites like

and the many others that have received thousands of monthly inquiries, year-round."
"Travelnet Solutions strives to serve our clients by providing efficient ways to increase revenue and occupancy rates ," says TNS CEO, Ryan Bailey, "joining forces with The American Snowbird Network will provide the necessary tools to help rentals do so during their slower season. We are very excited to watch this in action in 2020."
About Travelnet Solutions
TRACK Hospitality Software is one solution offered by portfolio company, TravelNet Solutions (TNS). TNS provides integrated software and solutions including CRM, PMS, Cloud Contact Center, and Digital Marketing for the hospitality industry. Our mission is to transform how hospitality works. To learn more about how TNS can help you please visit http://www.tnsinc.com.
About Clearle
The Snowbird Company, and it's parent company, Clearle Rental Niches, has been a leading innovator in the monthly vacation rentals and multi-month vacation rental industry since 2003. With a mission to redefine the guest experience and capitalize on otherwise ignored or underutilized vacancies of property owners and VRMs, Clearle created a complimentary monthly and multi-month website that's now part of The American Snowbird Network.
The Snowbird Company is the #1 Snowbird rentals resource since 2003, offering a focus on monthly and mult-month vacation rentals through its American Snowbird Network of interrelated State, National, Regional and State-level websites. All sites are integrated into one central, easy-to-use interface with one login, and admin controlling multiple niches. The company also offers annual snowbird-focused events and expos as well as printed newsletters and many other social, email and online advertising platforms all focused on a single niche.