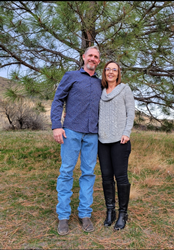 I've always felt like I missed my calling to pursue veterinary medicine, so when we were looking to open our own business and I heard about Pet Wants, I saw an opportunity to help pets live longer, healthier lives through high-quality, convenient nutrition. - Travis Hyde
MERIDIAN, Idaho (PRWEB) January 10, 2022
Although Travis Hyde built a successful career in operations management, a little part of him always felt like he missed his calling. While growing up, he spent a lot of time with his grandfather and his uncle – both veterinarians – and he's always been passionate about animals. Now Hyde is excited to get back to his animal-focused roots with the launch of his new business, Pet Wants Meridian, which he just opened with his wife, Rosie.
Pet Wants' specially-crafted, private-label pet food formulas are made in small batches with fresh, natural ingredients enhanced with vitamins and minerals for a complete and balanced diet in every bowl, all made in the USA. Pet Wants Meridian has multiple blends of dog and cat food formulas, treats, chews, as well as healing salve, calming balm, anti-itch spray, paw wax and more. Pet Wants Meridian is a mobile business that offers free, personal delivery in Meridian, Eagle, Star, Middleton, Emmett and the surrounding areas.
"Pet Wants is a unique kind of pet food and supplies company. The products are created to make sure our animals have the nutrition and enrichment they need, our training helps prepare us to help our customers find the right products for their specific pets, and the free delivery makes it easy and convenient. We are excited to bring Pet Wants to our community," Rosie said.
Pet Wants has a money-back guarantee on the freshness and quality of the food, the company only sources the best salmon, chicken, lamb, brown rice and other ingredients available. There's no sugar added, no fillers and no animal by-products and Pet Wants never uses corn, wheat, soy or dyes, which makes the food great for animals with allergies.
Travis was born and raised in Idaho, is a veteran and has a long history as a volunteer youth wrestling coach. He's also an avid outdoorsman, active church member and previously volunteered as a mentor with the Idaho Youth Challenge. For the last 21 years, he worked in operations management for a food distribution company. He and Rosie decided it was time to take his knowledge in food distribution and try something new. They both love animals and have raised and trained Redbone Coon Hounds for many years.
"I've always felt like I missed my calling to pursue veterinary medicine, so when we were looking to open our own business and I heard about Pet Wants, I saw an opportunity to help pets live longer, healthier lives through high-quality, convenient nutrition. Pet Wants gives me a chance to get back to my roots and to work with animals by selling products we truly believe in and give to our own beloved pets," Travis said.
To learn more about Pet Wants Meridian, call 208-617-9922, email THyde@PetWants.com visit https://www.petwants.com/meridian/.