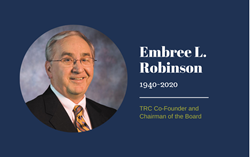 ATLANTA (PRWEB) May 07, 2020
TRC is saddened to announce the passing of Embree Robinson, co-founder and current TRC Chairman of the Board. In 1980, Embree was one of the original founders of TRC Staffing along with friend and business partner Roy Cannon. As a pillar in the Staffing community, both locally and nationally, Embree helped build TRC on principles and values that reflect the highest level of service to candidate and client alike. TRC became one of the fastest-growing temporary staffing companies in the US, helping Embree earn Ernst & Young's Entrepreneur of the Year award in 1987.
Through his leadership, acute knowledge of the marketplace, and ability to embrace change, Embree built an organization that has remained profitable each of its 40 years, even in tough market conditions. In January of 2009, he stepped out of the day-to-day operations of the company, handing over that responsibility to his son Brian Robinson as President and CEO. Throughout these last 11 years, Embree still remained on as Chairman of the Board of Directors and continued to serve as a close advisor.
Although he is no longer with us, Embree's legacy will forever remain in both the organization and the lives of so many people that he mentored and invested in throughout the years. He is survived by Karen, his wife of 50 years, their children Christina and Brian, and grandchildren Tyler, Katie, and Emma.
To learn more about the life and legacy of Embree Robinson, please click here.
About TRC Staffing Services, Inc.
TRC Staffing Services, Inc. is a full-service workforce solutions provider with 40 years of industry experience. Established in 1980, TRC is one of the largest privately-held staffing firms in the country. Like his father, President and CEO Brian Robinson remains focused on the idea that the marketplace continues to need a business built on principles and values, committed to providing the highest level of service in the industry. TRC has 38 locations in 12 states, providing traditional staffing services, professional and technical staffing, and management services to some of the country's leading companies. For more information, visit http://www.trcstaffing.com.