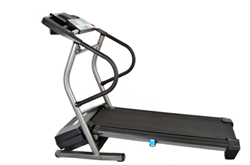 We're very glad to give them our highest recommendation as our newest winner among retailers of Treadmills in 2020
OVERLAND PARK, Kan. (PRWEB) February 13, 2020
TopConsumerReviews.com recently gave their best-in-class ranking to SOLE Fitness, a respected leader among Treadmill manufacturers.
When people start to envision their home gym, the first piece of equipment they tend to have in mind is the trusty Treadmill. It's an easy way to get a cardio workout that is tailored to every individual's level of fitness, from brand-new exercisers who need to set the speed at 2 mph to experienced athletes who need to be able to rack up the miles while training for a marathon. As technology has impacted the fitness industry as a whole, Treadmills have emerged with features previously found only in gyms and recreation centers - including touchscreens for watching favorite shows or pulling up a map to simulate a favorite course. Home consumers can still choose basic models that do little more than spin the belt under their feet, but many shoppers are attracted to the treadmills that include inclines of up to 15% for a hilly challenge. And, online shopping has made it more convenient than ever to get the perfect treadmill delivered right to one's home, with many retailers offering in-home, professional setup for a reasonable fee.
"If you're looking for a high-end Treadmill at an affordable price, you'll want to consider SOLE Fitness," stated Brian Dolezal of TopConsumerReviews.com, LLC. "Originally designed as a machine for use in luxury hotels like Hilton and Omni, SOLE Fitness' Treadmills bring a high level of quality and reliability to the home gym market. Among all of the eight models they offer, you'll find a generously-wide belt, folding and non-folding options if space is a concern, quiet operation and a super-durable surface that will hold up for many thousands of miles. SOLE Fitness extends a superb warranty that is hard to match: lifetime coverage on the motor, deck, frame and electronics, plus five years of coverage on any needed labor for repairs. Plus, you'll get free shipping no matter which model you select. SOLE Fitness does an excellent job of providing sleek yet heavy-duty machines to consumers and corporations alike. We're very glad to give them our highest recommendation as our newest winner among retailers of Treadmills in 2020."
To find out more about SOLE Fitness and other treadmills, including reviews and comparison rankings, please visit the Treadmills category of TopConsumerReviews.com at https://www.topconsumerreviews.com/treadmills.
About SOLE Fitness
SOLE has been providing exercise equipment to North America for decades. SOLE is a premier name in fitness and has been the fastest growing brand in the US and Canada the last 5 years and counting. Whether you want to ditch your gym membership for working out at home, or you want to start a small gym, here you will find the equipment that meets your specific needs at a price you'll appreciate. SOLE has the treadmills, ellipticals, and exercise bikes to make any fitness center complete, regardless of whether that's in your basement or in your local community. SOLE fitness equipment has received numerous "Best Buy" reviews and ratings year in and year out from the most reputable consumer review sites and magazines.
About TopConsumerReviews.com
TopConsumerReviews.com, LLC is a leading provider of reviews and rankings for thousands of consumer products and services. From Treadmills to Home Gyms and Personal Trainers, TopConsumerReviews.com delivers in-depth product evaluations in order to make purchasing decisions easier.