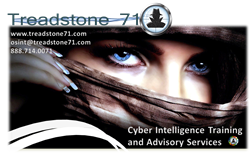 The course not only exposed us to all the comprehensive tools for open source collection and research, but also provided us with ample and essential hands-on experience.
Half Moon Bay, California (PRWEB) June 23, 2016
Treadstone 71 announced today the Cyber Intelligence Tradecraft Certification course preparing all-source, fusion, and intelligence analysts for today's cyber operations. The first course scheduled for July 17-22 in Denver, Colorado.
The certification covers traditional intelligence community tradecraft adopted to the cyber environment. The course began six years ago at Utica College where Treadstone 71 helped create the Master's curriculum for cyber intelligence.
"Information security professionals need to understand the full intelligence lifecycle. Most are not skilled in the fundamentals of intelligence from collection to production, analysis, and dissemination. Our Cyber Intelligence Tradecraft Certification course includes case studies taken directly from today's headlines," said Jeff Bardin, Chief Intelligence Officer for Treadstone 71. "Priority intelligence requirements, collection planning, integration with hunt and detect, structured analytic techniques, and analytic writing are showcased in this training."
Treadstone 71 applies tradecraft to today's most pressing issues surrounding threat intelligence, tactics, techniques, and procedures (TTPs), and indicators of compromise (IoCs). Each day builds upon the next as students utilize course methods examining adversary courses of action and threat actor campaigns.
"Students from the intelligence community indicate this course is the best private sector course ever taken to help students get intelligence," continued Bardin. "Students state this course allows them to simulate real and live working environments where they collaborate together to harvest open sources, analyze data, and draft reports."
Attendees receive indoctrination in taxonomy, production methods, methods of analysis, inductive, and deductive reasoning. Students learn how to create a cyber intelligence program with defined roles, responsibilities, goals and objectives.
Treadstone 71's Cyber Intelligence Tradecraft Certification is the gold standard in the industry today derived from both academia and from Treadstone 71's experience in building cyber intelligence programs at Fortune 500 organizations worldwide.