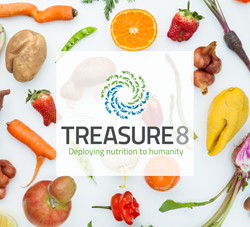 Every partnership we make is so essential to our mission as a company, and we are grateful for this most recent one with Shameless Pets.
SAN FRANCISCO (PRWEB) January 30, 2020
Treasure8, a company systemically fighting food waste and climate change, announced today that it has officially partnered with Shameless Pets to help it further its mission to reduce the environmental impact of pet food by creating the most nutritious, upcycled pet treats available on the market today.
Treasure8 is the latest company from Founder & co-CEO Timothy Childs, previously the founder of popular chocolate brand, TCHO Chocolate. Treasure8 has gained traction for its superior SAUNA™ dehydration platform, capable of upcycling numerous materials, a win for both the environment and investors. And as food waste and climate change have become growing concerns in recent years, the need for its superior dehydration technologies has grown tenfold, most recently to the pet food space, as illustrated by this partnership. SAUNA also possesses a unique power in creating a LOG5+ mycobacterial kill step, which can be applied to upcycling food waste streams to help with food safety.
Treasure8 has been collaborating with Shameless Pets to deliver the best upcycled ingredients for their innovative new products. Most recently, it has helped support them as they have embarked on their biggest venture yet, a massive and exciting launch with Target, the third-largest discount retailer in the world. And every ounce of viable food that is saved matters with $2.5T lbs of food being thrown away every year globally.
"Every partnership we make is so essential to our mission as a company, and we are grateful for this most recent one with Shameless Pets. It is the perfect example of the impact working together can have," said Timothy Childs, Founder, and co-CEO of Treasure8 & HEMP8. "From food for people, to pets, and beyond, we're proud to be finding regenerative ways with technology, to bring new life to what was once considered waste streams headed to landfills."
Added Treasure8 co-CEO Derk Hendriksen, "The folks at Shameless Pets are innovative and creative people, a perfect example of when passion meets purpose and we're proud to call them partners in this Resource Revolution."
James Bello, CEO and co-Founder of Shameless Pets, chimed in, "As the industry works together to find sustainable solutions to deal with post-production output, we are excited to have Treasure8 join us as our technology and ingredient partner, as we work to help develop more sustainable products in this space. This is just the beginning."
About Treasure8: Treasure8 is a technology company utilizing proprietary and regenerative methods to battle the urgent global crisis of climate change, often by upcycling food waste streams. Through a variety of sustainable and specialized techniques, Treasure8 is able to create ingredients and products that are better for the planet, for people, and often more affordable, too. Treasure8 was founded in 2012 by serial entrepreneur and co-CEO, Timothy Childs, and today has helped some of the world's largest companies reformulate and advance their products. Additionally, Treasure8 has exclusively commercialized the USDA's patented SAUNA™, one of the world's most powerful drying systems. It is backed by the CA Energy Commission and was named a 2018 winner of the US Far West Regional Federal Technology Transfer Award, a 2019 ASABE "AE50" Award, and received a 2019 World Changing Ideas Honorable Mention from FastCompany.
About Shameless Pets: Shameless Pets works with farmers and food processors to rescue safe and nutritious food turning it into pet treats. Shameless Pets also gives back by donating to local and national pet rescue organizations. Products are currently sold at Target stores across the US, and online at Grove.co, Amazon.com, and http://www.shamelesspets.com. Shameless Pets welcomes inquiries from potential retail partners.
Press Contact:
Morgan Oliveira
morgan@groundedpr.com
(415) 515 - 8078