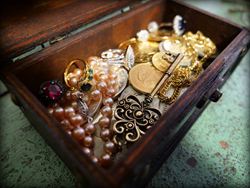 If you can find the chest, you can have the treasure.
SARASOTA, Fla. (PRWEB) November 17, 2021
With a real-world treasure cache estimated to be worth well over $10,000.00, the Treasure Island Treasure Hunt puts an interesting twist on a timeless classic.
On November 12th, 2021, imprint Digitas Media, LLC released "Treasure Island – Treasure Hunt Edition," which is a specially edited version of the classic work by Robert Louis Stevenson said to hold clues to the location of a real-world treasure chest.
"I packed a beautiful old wooden chest chock-full of treasure," says treasure hunt creator and author, David Jacobsen. "It's a wonderful site. There are diamonds, rubies, sapphires, emeralds, silver, plenty of gold, rare collectible coins dating back to the Roman Empire, and more… If you can find the chest, you can have the treasure."
Inspired by treasure hunt books such as "The Thrill of the Chase," "Masquerade," and "The Secret," "Treasure Island – Treasure Hunt Edition" seeks an audience among treasure hunt enthusiasts while encouraging readers to discover or re-discover the works of Robert Louis Stevenson. "I've always loved Treasure Island," says Jacobsen. "It's one of my absolute favorite treasure stories. But in the end Jim Hawkins, the protagonist, gets to go home with the treasure, while the reader's left holding a book, the worth of which is spent by the time you're finished reading it. I thought it would be fun to change things around a little bit and to publish a version of the book that contained clues to a real-world treasure. You don't need a schooner to claim it."
According to Jacobsen, in addition to being able to enjoy the celebrated story of "Treasure Island," readers can search the book for hints and clues, which provide directions to a precise spot somewhere in the contiguous United States, where a real-world treasure chest awaits them. "There is a second small treasure chest - a proxy item - which I hid somewhere in the great American wilderness, along with a secret message. It's not in a dangerous place, so please be safe when looking for it. If you can find the clues in the book, they will take you to the golden key. And the first person to find that golden key will claim the real-world treasure."
This isn't Jacobsen's first treasure hunt. On November 27th, 2020, David hid another treasure chest, which thousands of people are searching for. That time, the clues were provided in an original work, entitled "The Hatter's Hat," prequel to "Alice's Adventures in Wonderland" by Lewis Carroll. In addition to being a work of art in its own right, the book is said to hold clues to the Wonderland Treasure cache, also worth over $10,000.00.
When asked about the value of the Treasure Island treasure cache, Jacobsen said the following: "It can be difficult to pin down the precise value of treasure. The value of gold and silver fluctuate daily, and the value of diamonds can be subjective, but you're not going to be disappointed if you find that chest."
To learn more, visit the Treasure Island Treasure Hunt official website.