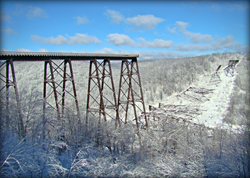 What better place to prepare for the season's tidings than the Allegheny National Forest region; which offers an exquisite holiday shopping trail and plenty of heartwarming holiday events.
BRADFORD, Pa. (PRWEB) November 26, 2019
The vibrant colors of fall have dissipated, and mother nature's chill is settling-in marking the beginning of the holiday season; a time for reuniting with friends and family. What better place to prepare for the season's tidings than the Allegheny National Forest (ANF) region; which offers an exquisite holiday shopping trail and plenty of heartwarming holiday events.
Take to the streets of the eclectic and historic towns in the ANF region to find the best gifts for all your favorite people – or maybe even yourself. Whether you're seeking brand names, handmade artisan wares, or delectable confectionary delights the new 2019 Treasures of the Forest Shopping Trail will help you slow down and enjoy the busiest shopping time of the year.
Support family and locally owned small businesses in the ANF region this holiday season, especially during Shop Small Saturday on Nov. 30. Shop Small is a nationwide movement to celebrate small businesses and to help communities thrive and stay vibrant. Shop local to enjoy special deals from the unique small town merchants in Bradford, Pa., and participate in the first ever "Cookie Crawl." Shop Small is the perfect opportunity to utilize this year's Treasures of the Forest Shopping Trail which offers consumers unique and affordable items, from privately owned shops, which make exceptional and exclusive gift items. After a day of shopping grab a ticket and enjoy a holiday musical dinner theater show, "All She Wants for Christmas," by Enchante Cabaret at the Beefeater's Restaurant Afterwards Club on 27 Congress Street.
Stop by the Allegheny National Forest Visitors Bureau at 80 E. Corydon Street and find great gift items for the forest lover in your life. Please note the Visitors Bureau is closed Nov. 28 and 29 for the Thanksgiving Holiday, so if you cannot make it in, shop online for Zippo Skywalk lighters, canvas ANF baseball caps and more.
Satisfy your sweet tooth at the Bradford Chocolate Factory at 72 Main Street. With the opening of the Bradford Chocolate Factory, the 100+ year history of Bradford's connection with mouthwatering chocolate candies is once again alive and thriving on Bradford's Historic Main Street. Shop creamy fudge-filled chocolate truffles and old-fashioned sponge candy. Visit with the store's mascot, COCO the Bear, while choosing treats from a selection of over 200 varieties of candies.
While planning your trip through the ANF region, of northwestern Pennsylvania, along the Treasures of the Forest Shopping Trail, check out and acquire the collectible pins from the Historic McKean County Collectible Pin Trail. The pin trail consists of ten unique pins from heritage sites throughout the region.
The holiday spirit becomes infectious during the annual holiday open house events in the quaint towns within the ANF region. Experience the small town charms within the gateway communities which are nestled at the edge of the Allegheny National Forest.
Experience the magic of the holiday season during the Christmas Open House at the Olmsted Manor and Retreat Center. From blankets of sparkling snow to dazzling Christmas decorations donated and hung by local churches from Ludlow, Pa., this open house will be a laid-back celebration with live musical entertainment. Shining in all things red, green and white this holiday season, decorations will sparkle throughout every room and on both floors of this elegant mansion. These beautiful decorations will be displayed in the library, dining room, guest rooms and elegantly hung along the main stairway leading to the second story. Guests can enjoy homemade Christmas cookies and punch or hot cocoa by a crackling fire while enjoying lots of conversation, hosted in both the historic manor house and the Groves Lodge retreat center.
The ambiance, comfort and home cooked meals make Olmsted the perfect location for group retreats, seminars, workshops, family getaways or a personal overnight adventure. The Manor, an original Tudor style mansion, offers eight individual and charming guest bedrooms with accommodations for up to 12 guests. The spacious living room with fireplace and grand piano, elegant dining room and furnished kitchen, all retain their original architectural details and elegance. As for business retreats and seminars, Olmsted is also home to Groves Lodge, a modern, fully-accessible facility, which can accommodate up to 42 guests and includes a central dining area for up to 50 guests.
During the Christmas Open House at Olmsted Manor Retreat Center tour the 1917 Tudor-style manor house, explore the recent renovations in the retreat facilities or play duck-pin bowling in the private two-lane bowling alley. The Olmsted and Ludlow history archives will also be available for perusal during this event. The open house is a free, family-friendly event, held on Dec. 1 and Dec. 8, 2019, from 3:00 to 8:00 p.m. Delve into the vast amenities Olmsted has to offer during this open house in order to plan a future retreat of your own.
Celebrate the holiday season with award-winning wines, craft beer and delicious items from a full menu, for two days this year, during the Annual Flickerwood Wine Cellars Holiday Open House in Kane, Pa. From 10 a.m. on Friday, Nov. 29 until 9 p.m. on Nov. 30, enjoy mulled wine and holiday treats while shopping the Flickerwood Wine Cellars gift shop for discounted holiday gift items and wine accessories or while pre-ordering your holiday gift baskets. Purchase one delectable wine tasting and get one free during this event. Enjoy sweet or dry wine made with high quality fruit and local ingredients, that is filled with the passion and rock and roll of current Flickerwood Wine Cellars winemaker, Rick. Before checking out at the end of the evening make sure to spread the holiday cheer or save some for later in the season by purchasing six or more bottles of wine and receive a 15% discount and free bottle bags, while supplies last.
Travel east along scenic Route 6, to stroll through the village of Smethport and view the superb hand-carved woodworking and massive wooden beams belonging to the historic Victorian architecture of Smethport's mansions. After checking all the boxes off your shopping list, relax for the evening during an overnight stay at one the cozy B&B's in the beautiful and historic Smethport Mansion District. Selected as "one of the top 25 Bed and Breakfasts nationwide," for four consecutive years, by TripAdvisor, the Mansion District Inn, located at 905 West Main Street, provides guests with a total immersion experience of the opulent lifestyles once enjoyed by societies' elite or relax, sit back and enjoy a warm hot cocoa from the open-air porches of the 1880s Queen Anne Victorian style Blackberry Inn at 820 West Main Street in Smethport. Experience the unique, historical, beauty and value of the Allegheny National Forest region's gateway communities at your own pace with a self-guided walking tour through the scenic and beautifully decorated Kane, Smethport or Bradford, Pa.
Although winter snowfall in the ANF region blankets most everything in white the city of Bradford's National Historic District remains alive with color; from artistic murals to turn-of-the-century architecture. Experience the holiday sparkle of Christmas when Main Street in Historic Downtown Bradford starts to shine, just in time for the Cruisin' Into Christmas parade on Dec. 6. The parade features antique and historic cars, locally designed floats, old-fashioned carriage rides and, of course, the ever popular St. Nick. The parade is free, family-friendly and open to all.
Enjoy holiday themed events at participating stores during Bradford's Downtown Old Fashioned Christmas event on Dec. 14. Have breakfast with Santa, lunch with Frosty, get your face painted and cruise the event on a horse-drawn carriage ride. Listen and sing along with carolers while sampling food vendors and exploring holiday sales.
Making the magic of the Christmas season come alive in sound, the American Caroling Company will be performing at the Marilyn Horne Museum for a Dickens Christmas at Horne Hall on Dec. 14. Sip warm apple cider and delight in old-fashioned gingerbread cookies while browsing a unique selection of artisan vendors and an assortment of Victorian-themed items in the giftshop.
In the evening on Dec. 14, catch up with friends and family, to explore historic downtown Bradford while sampling unique wines from 12 local and national wineries during the Annual Bradford Winter Wine Walk and receive a complimentary wine glass. Enjoy live music and complimentary hors-d'oeuvres.
December in the ANF region tends to bring lake-effect snowstorms. The storms blowing off the Great Lakes often piles deep snow in the high country of McKean County offering loads of opportunities for fun. The ANF region has plenty of titillating winter activities, including winter hiking on trails, cross-country skiing, snowmobiling and more.
Try walking the tracks across the sky in snowshoes on the Kinzua Sky Walk at the Kinzua Bridge State Park. Not only does the park have a snowshoe rental program, the park staff will even provide a brief "how-to" and history of the sport. The Kinzua Sky Walk is located at 296 Viaduct Road in Mt. Jewett and is open daily from 8 a.m. until dusk, year-round. Admission is free.
Whether searching for a location to hunt, ice-fish, winter backpack, camp or ice-skate – the ANF region can accommodate almost every outdoor recreation need; while also providing ample opportunity for relaxation, rejuvenation and revitalization. Snuggle up in front of a roaring fireplace in a cabin surrounded by forestlands or cozy-up at any of the romantic B&Bs in the ANF region.
For more information about winter in the ANF region, including events and outdoor recreation call (800) 473-9370 or download a copy of the Treasures of the Forest Shopping Trail at VisitANF.com.