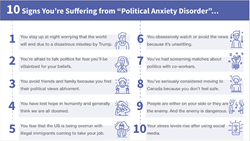 We provide clients with constructive strategies to decrease anxiety related to today's political climate and the strain it has put on their relationships and their emotional wellbeing
SAN FRANCISCO (PRWEB) January 23, 2019
ChatOwl, a provider of online counseling in the United States, has designed a treatment program to address the growing number of people suffering from 'political anxiety disorder.' According to the American Psychological Association, (Stress Survey, 2017) the "future of the nation" and the "political climate" rank in the Top 5 common sources of stress; in 2014 these concerns didn't even make the top five list of stressors.
To help people understand the mental and emotional impact of political anxiety and practice coping strategies to get their political anxiety under control, ChatOwl is giving away one year of online counseling.
A growing number of ChatOwl clients describe feelings of hopelessness, lack of sleep and alienation from friends and family, all related to today's political climate that is more divisive than at any point in recent history. As 2019 is shaping up to be another tumultuous year in politics - ChatOwl's lead therapist, author and renowned social scientist - Dr. Debra Nixon is spearheading the company's effort to match patients with therapists who can design treatment plans to address political anxiety.
"We provide ChatOwl clients with constructive strategies to decrease anxiety related to today's political climate and the strain it has put on their relationships and their emotional wellbeing," said Dr. Nixon. "Each treatment plan is designed to meet the unique needs of the individual patient, but there are some fundamental changes we can make in our daily lives to ease political anxiety."
ChatOwl therapists offer the following advice to those suffering from political anxiety disorder:

Embrace What is Real - At a time of unprecedented attacks on the press and proliferation of social media influence, it can be difficult to decipher reality from sensationalism. Regardless of the information we receive, it's most import to understand the difference between actual and perceived impact of political policies and rhetoric.
Stay (Selectively) in the Loop - While it's important to understand what is truly going on in the world, it's unhealthy to tune into the 24 hours news cycle; try listening a bit less, turn off news notifications on your mobile phone and simply limit your time on social media.
Find Common Ground - Politics have always been a polarizing topic, and now more than ever, it's important to actively seek out the things we view similarly. Fine the good in others; it is there if you search for it.
Set Ground Rules - It may not be possible to completely avoid political conversations with certain friends, family members or co-workers, but setting boundaries can be the difference between a healthy conversation and a screaming match.
Visit ChatOwl's political anxiety page for complete details and to enter for a chance to win one year of counseling from ChatOwl.
About ChatOwl
ChatOwl believes that every person needs support at some point in their life. Access to help shouldn't be a luxury. A diverse team of therapists, coaches and peer counselors help patients heal, grow and live their happiest lives. New patients fill out a brief survey about the challenges they face and what they'd like to achieve. From there they are paired with the right counselor to address their needs. Patients can purchase a single session or a subscription pack for a discounted rate. Plans start at $59 per week and may be cancelled at any time. For more information visit http://chatowl.com or fill out the survey to get started today: http://chatowl.com/survey.