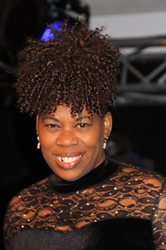 "standing behind a product which I have used and I am not afraid or ashamed to put my name or reputation on the line for" -Dr. Loretta "Jazzii" Anderson
LITTLE ROCK, Ark. (PRWEB) January 28, 2020
Tree of Life Seeds is delighted to announce our newest brand ambassador, Dr. Loretta "Jazzii" Anderson.
Our brand ambassadors help spread the word about Tree of Life Seeds, and in return, the company promotes events and causes for the ambassadors.
It's a win-win situation that fosters a great, supportive relationship between both parties. "We are thrilled to have Dr. Jazzii Anderson join Tree of Life Seeds as a Brand Ambassador. Her passion for helping others and spreading knowledge made her outstanding in her field and motivated us to ask her to join our team. As a pillar of the music industry, we know she can spread our message of helping people with CBD to a new audience," said Tree of Life Seeds CEO Jason Martin.
Anderson, or Jazzii A. as she is known professionally, said, "standing behind a product which I have used and I am not afraid or ashamed of to put my name or reputation on the line for" is one of the primary reasons she joined Tree of Life Seeds.
She continues, "Each morning, I take Tree of Life Seeds 500mg CBD Oil Drops. After stirring around and moving during the day, I apply Tree of Life Seeds CBD Balm to relieve soreness and pain in my muscles and joints, and the relief is almost instant. Finally, before I go to sleep, I take Tree of Life Seeds CBD + Curcumin Soft Gels to fight any lingering inflammation that comes with the disease. Since I've been using these products, not only have I felt better than I have in years, but I am able to climb a few more stairs and walk longer distant without having to stop and sit down before I can continue on."
Jazzii A. is an accomplished entrepreneur, journalist, actress, choreographer, producer, T.V. & radio show host, and manager. She is a Doctor of Christian Counselor, the CEO/Founder of Grieving Mothers of the World Outreach Ministry and 2015 inductee into the Rhythm & Blues Music Hall of Fame.
Jazzii A. has been in the entertainment industry for over 40 years, getting her start at age 16 with preforming gospel music. In the 1970s, she was a promoter for gospel concerts, and in '85, she began doing shows with popular gospel acts including Ranz Allen, The Clark Sisters, and Take6.
Jazzii A. found her way to Jazz music in 1989, became a member of the Tide Water Jazz Society in '90, and became a board member of the society a year later. During her time with the society, she helped to book popular Jazz acts such as Dr. Leo Casino, Richard Ellis, and Christen McBride for events.
In 1995, Jazzii A. created her own entertainment company, Jazzii Entertainment and Productions, which provides clients with everything from representation and distribution to studio recording and choreography. Additionally, Jazzii was the lead dancer for Grammy Award winning American blues musician Bobby Rush.
Transitioning to the media side of the entertainment industry, Jazzii A. released her first radio show called Love Scene in 2008. In 2011, she became a columnist for Jefferson Blue Magazine, the world's oldest blue magazine. Since 2012, Jazzii A. has been the on-air personality for her southern soul and blues radio show N-Da-Know, which can be listened to on numerous terrestrial AM and FM radio stations, Southern Soul Network Radio, and online at NDaKno.com.
"N-Da-Kno with Jazzii A." is a syndicated four-hour show that airs weekly, predominantly on Saturdays across over 60+ radio stations. It has an average listenership of 250,000 per week.
In addition to her extensive works in gospel and jazz, she founded the "Jazzii A. Foundation." The Foundation works to create after school STEM programs for children of all economic and ethnic backgrounds that provide students with the opportunity to learn new skills in science, technology, engineering, and math. It was designed to equip students with practical skills to gather and evaluate evidence, make sense of information, and solve challenging problems in a fun and guided atmosphere.
Because of her fantastic contributions to the entertainment industry, Jazzii A. has been the recipient of many great awards such as the MLK50 Shero Award (2018), the first-ever Nat D. Williams Radio Personality of the Year Award, her own holiday called "Jazzii A. Day" (2016), and more.
About Tree of Life Seeds
Founded in 2015, Tree of Life Seeds develops industry-leading premium hemp genetics and broad-spectrum hemp cannabidiol (CBD) products. Genetics developed by Tree of Life Seeds, such as their flagship hybrid, Cherry Wine, can produce CBD as high as 25% while maintaining almost undetectable levels of psychoactive THC. Tree of Life's CBD products are produced with all-natural, broad-spectrum, nano-emulsified, THC free CBD oil derived from responsibly grown, non-GMO hemp cultivated in the US. Tree of Life Seeds has its headquarters in Little Rock, Arkansas. More information can be found at http://www.treeoflifeseeds.com or by emailing info@treeoflifeseeds.com.
Tree Of Life Seeds on Facebook
http://www.treeoflifeseeds.com
For more information or to schedule an interview, please call Lillee Hill at 501.404.4787 or email at lillee@treeoflifeseeds.com