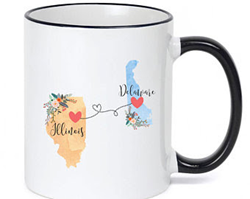 "As part of our mission to improve access to state trial court records, we're onboarding new courts in Delaware and Cook County, Illinois" said Nicole Clark, CEO and Co-Founder of Trellis. "Central to our ethos as a business is democratizing access to court records and the law."
LOS ANGELES (PRWEB) December 01, 2020
Trellis Research Inc. ("Trellis"), an AI-powered state trial court legal research and analytics platform, today announced it has expanded coverage to trial courts throughout Delaware and Cook County, Illinois. Trellis now enables legal teams in those jurisdictions to make smarter decisions in a fraction of the time, with the largest and most comprehensive searchable database of state trial court records available, including detailed analysis of judges' decisions and ruling history. Trellis is quickly establishing itself as the "Google" of state trial court records for the industry's fiercest litigators to gain insights on judges, opposing counsel, motions, and their most complex legal issues.
"As part of our mission to improve access to state trial court records, we're onboarding new courts in Delaware and Cook County, Illinois" said Nicole Clark, CEO and Co-Founder of Trellis. "Central to our ethos as a business is democratizing access to court records and the law."
"We're committed to bringing data-driven decision making to the practice of law by making state trial court data in Delaware and Cook County, Illinois accessible and effortlessly digestible for the first time adds Alon Shwartz, Co-Founder and CPO of Trellis."
Jack M. Rubin, an associate at Newmeyer & Dillion focusing his practice on civil litigation, real estate, land use and construction litigation, agrees with Clark and Shwartz. "I have a moment with Trellis almost every day finding results I wouldn't have been able to find anywhere else," says Rubin. "The information in Trellis changed my cases from being on defense to offense. Trellis is an essential tool for litigators."
Trellis clients can now access a wide-range of case types for Delaware and Cook County, Illinois court records, including negligence, insurance, contract, property, personal injury, product liability and so much more. As with other cases included in the Trellis system, Trellis clients in Delaware and Cook County, Illinois can also get the basic case information they need on the dockets, parties, and attorneys involved in litigation. Trellis clients in those jurisdictions can now begin leveraging their favorite Trellis features to do strategic multi-state research on opposing counsel and other parties.
Key Features & Benefits
**Google-Like State Trial Court Keyword Search - Common trial court keyword search terms supported include: parties, court, legal issue, judge, motion type, and even opposing counsel. Search state court dockets through a single interface to research legal issues quickly and understand the threshold and elements of each claim.
**State Trial Court Data & Judicial Rulings - Gather all rulings in one place, search by judge topic and county, and analyze each judge's temperament, favorite citations and likelihood of granting motions. Swiftly analyze whether to "ding" a judge based on past rulings on similar matters.
**Opposing Counsel and Prospective Clients Research - Gain valuable insights on how opposing counsel positioned issues in the past. Learn about litigation history, including past judges and counsel, for a case or issue.
The inclusion of all Delaware counties into Trellis' system - spanning Kent, New Castle and Sussex counties - is significant as well the addition of Cook County which is the largest county in Illinois, and second most populous county in the country, is noteworthy for its over five million residents that account for nearly half of the population in the whole state.
Trellis is providing users complimentary 14-day access to its AI-powered state court legal research and judicial analytics platform. Users can click here to test out the power of Trellis.
About Trellis
Trellis builds legal intelligence and judicial analytics for legal teams. We mine disappearing state trial court data, make it searchable and analyze it to give law firms AI-powered insight into the way judges are ruling. Litigators are able to see judicial ruling analytics and "Google" search state trial court records to uncover key intelligence on opposing counsel, motions, rulings, law firms and other parties. To discover how Trellis is helping legal teams dramatically improve their results through actionable insights from state trial court data, visit http://www.trellis.law or connect with us on LinkedIn.
Trellis was co-founded by Nicole Clark and Alon Shwartz.
Safe Harbor Statement
This news release contains forward-looking statements, including the capabilities of Trellis and its benefits to customers. Without limiting the generality of the foregoing, words such as "may," "will," "expect," "believe," "anticipate," "intend," "could," "estimate" or "continue" or the negative or other variations thereof or comparable terminology are intended to identify forward-looking statements. In addition, any statements that refer to expectations, projections or other characterizations of future events or circumstances are forward-looking statements. Assumptions relating to the foregoing involve judgments and risks with respect to various matters which are difficult or impossible to predict accurately and many of which are beyond the control of Trellis. Although Trellis believes that the assumptions underlying the forward-looking statements are reasonable, any of the assumptions could prove inaccurate and, therefore, there can be no assurance that the results contemplated in forward-looking statements will be realized. In light of the significant uncertainties inherent in the forward-looking information included herein, the inclusion of such information should not be regarded as a representation by Trellis or any other person that their objectives or plans will be achieved. Trellis undertakes no obligation to revise the forward-looking statements contained herein to reflect events or circumstances after the date hereof or to reflect the occurrence of unanticipated events.
Editor's Note: Trellis executives are available for interviews and quotes. Please send your request to Michael Swarz: mike@trellis.law | 310-909-9603