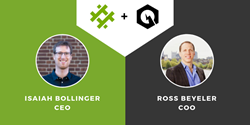 As the CEO of Trellis, I could not be more excited to progress with the amazing team at Growth Spark and the leadership of Ross Beyeler. As two of the best Shopify & eCommerce agencies out there, we feel confident that our combined forces will generate some of the best eCommerce sites on the web.
MEDFORD, Mass. (PRWEB) January 11, 2019
Trellis and Growth Spark are now equipped to service clients across strategy, design, development, quality assurance, integrations, hosting, and marketing across a variety of leading eCommerce and CMS platforms including Magento, Shopify, BigCommerce, WordPress, CraftCMS, and much more. By providing a unique and unbiased view of the technology landscape, Trellis & Growth Spark can help clients find the right technology for their needs and long-term growth as opposed to just doing what the agency is best at.
Trellis will continue to invest heavily in improving its processes, culture, employee base, partnerships, and is even investing in a massive upgrade to its Boston-based headquarters with a new office space that will take effect March 1st, 2019. Prior to the merger, current projected growth would allow Trellis to be eligible for the Inc 5000 in 2019, so the excitement around our new potential growth and abilities as one unit is at an incredible level.
Currently, the plan is to keep the Growth Spark brand alive as a subsidiary of Trellis. The specifics of how the two brands will operate will evolve over time.
About Growth Spark:
Growth Spark helps e-commerce companies grow by building unique web experiences that convert visitors into customers. By implementing a leading eCommerce technology, Shopify, Growth Spark can streamline operations and use data to guide marketing decisions. Growth Spark is an award-winning, nationwide team that's worked with startups, retailers and global enterprises including Bose, Cabbage Patch Kids, Johnny Cupcakes, Newbury Comics and any other leading brands.
About Trellis:
Trellis is a full-service eCommerce solution provider that specializes in implementing websites based on popular platforms like Magento, Shopify, WordPress, CraftCMS, BigCommerce, and much more. Our capabilities allow us to plan and design a solution that not only meets your specific goals and budget today but will also scale with you as you grow. Once a site is launched we stick side by side with our clients to help them improve the site and market the site to generate more customers.