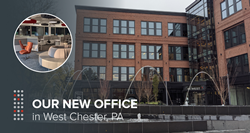 No matter where we operate, we're dedicated to being a part of the community and helping local businesses. We're excited to do the same in and around West Chester.
WILMINGTON, Del. (PRWEB) November 17, 2020
Trellist Marketing and Technology has announced plans to open a new office in West Chester, Pennsylvania. The 5,300-square-foot facility, located at 44 West Gay Street in the city's historic downtown district, will serve as a flexible hub with dedicated, shared, and reserved work spaces.
The West Chester office grows Trellist's business footprint, which includes locations in Wilmington, Delaware, and Philadelphia's Navy Yard. The development is part of a strategic evolution that will enable the company to accommodate clients and prospective clients located along the U.S. 202 and Main Line corridors, while shortening commutes for nearby employees.
"Expanding into new geographies as our business grows helps us maintain the character of our culture while providing optimal business flexibility," says Trellist Founding Partner David Atadan. "But no matter where we operate, we're dedicated to being a part of the community and helping local businesses. We're excited to do the same in and around West Chester."
At the same time, Trellist is continuing to make it easier for employees to work from anywhere. In 2019 the company finished a full implementation of the Microsoft Teams collaboration platform, and as a result, talent acquisition is no longer restricted to the Mid-Atlantic region, as evidenced by a number of recent hires who live in locations as widespread as Austin, Texas, and Miami, Florida.
Despite the abrupt shift to remote work driven by the COVID-19 pandemic, the company intends to continue supporting and adding to its physical office locations. "It's part of our longstanding vision of building what we call a 'work home' for Trellist employees," says Maria Gunther, Trellist partner. "We've always tried to balance the necessity of work with the benefits of the home environment, which include sociability, convenience, and open communication."
Once employees are comfortable returning to work in accordance with CDC protocols, the West Chester location will offer a dedicated workspace for those who plan to work onsite a majority of each week, along with shared desks for employees who prefer part-time onsite work, and reserved desks for scheduled office visits.
There are more than 20 desks in the office's open work area, along with full-sized lockers and a large kitchenette with bar seating. Interior partitions made of glass optimize the availability of natural light. "Huddle rooms" are provided for small meetings, as well as privacy booths for phone calls.
"We saw this office as a blank slate," says Nick Cohen, Chief Information Security and Compliance Officer at Trellist, who has managed both the company's physical office expansion and its growing remote technology capabilities. "We were going for a fresher, high-tech look, and we were able to work with the builder and our interior designer to get everything built to our specifications in a way that would accommodate not only our aesthetic vision, but a range of work styles."
The property is owned by E. Kahn Development of Malvern, Pennsylvania. D. Fickler Construction, also of Malvern, was the general contractor behind the project, while Philadelphia-based Workspace LLC developed the office's interior design.
"When we were looking at locations in West Chester, we had two things in mind," says Atadan. "We wanted an urban feel, and we wanted a place consistent with our brand and the higher-level consulting and products and services we provide. When we saw this new building in the center of town and discovered that we could outfit it completely, we said "this is it.""
About Trellist
Trellist is a professional services firm delivering performance-driven business solutions that are flexible, innovative and optimized to maximize efficiency and return. The firm consults on, and integrates, data with marketing, design, technology and digital services for clients at the global, national and regional level. Trellist utilizes a unique approach to business—from the firm's employee-shared structure, to how it partners with its clients. Visit trellist.com to learn more.