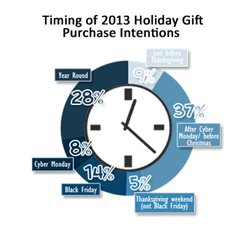 San Diego, CA (PRWEB) November 26, 2013
In its 2nd Annual Pre-Holiday Consumer Buying Intentions Survey, TrendSource gathered a multitude of shopper insights surrounding holiday gift intentions for 2013, and compared them to consumer insights from 2012 studies. Two overwhelming themes from this year's study were a drastic shift towards intent to shop via mobile device, and a slow and steady increase in "showrooming" plans across all age groups.
Budget parameters for consumers were similar as reported in 2012: 66% of TrendSource's 2013 survey respondents cited that they intend to spend about the same or a little more than they did last year, which is up from 60% in 2012. On the flip side, the intention to spend less saw a significant decline from 40% in 2012 to 34% for this season.
When are consumers doing their holiday shopping? Significantly more respondents will be shopping on Black Friday this year over last (14% vs. 11%) as well as Cyber Monday (8% vs. 2%). More respondents will be buying online this gift-giving season as well: 48% cited that they intend to shop online (via computer or mobile device) vs. 37% who reported doing so last year. Although the in-store experience still dominates shopping intentions, fewer respondents intend to shop in-store than reported doing so last year (51% vs. 64%).
While millenials may have paved the way with "showrooming" (the practice of checking for a better price while in-store via a mobile device), all age groups are quickly jumping on the bandwagon. Over twice as many 51-55 year olds (48% vs. 23%) and 55 and overs (33% vs. 16%) cited intent to check their mobile device while in-store to compare prices.
In addition to the upward tick of online shopping as a whole, Amazon surpassed Walmart as the number one shopping destination on the minds of these holiday shoppers. Rounding out the top five were Walmart, Target, Best Buy and Kohl's, respectively.
For the complete results of TrendSource's 2013 Pre-Holiday Consumer Buying Intentions Study, and an infographic that summarizes the findings, click here: http://trustedinsight.trendsource.com/consumerinsightstudy/2013-pre-holiday-consumer-buying-intentions/.
About TrendSource and This Study
TrendSource Trusted Insight provides business intelligence, customer experience insight, compliance solutions, and other market research and data analysis programs that deliver measurable ROI. With over twenty years of experience, TrendSource's customized solutions deliver high quality Customer Experience Management Programs that quantify service gaps, provide prescriptive/corrective solutions, identify trends, and provide actionable solutions through enhanced reporting and analysis.
Methodology: TrendSource conducted this research study by surveying North American Field Agents in the MSI database between October 22nd and November 10th, 2013. The results represent 3,706 online respondents who met the qualifying criteria of confirming intent to shop for gifts in the 2013 holiday season. All respondents opted in to participate voluntarily.
TrendSource has the unique distinction as a market research organization that is an ISO 9001:2013 certified company.
For more information about this study or TrendSource's services, email: TrustedInsight(at)trendsource(dot)com.