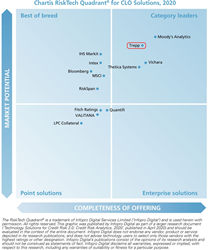 This recognition is an important milestone for the TreppCLO product suite. Just four years ago, Trepp first expanded its capabilities into the CLO market, offering its clients streamlined analytics and data to evaluate the loans, bonds, and managers in this market
NEW YORK (PRWEB) May 14, 2020
Trepp, a leading provider of information, analytics, and technology to the structured finance, commercial real estate and banking markets, today announced that its CLO product has been selected as a category leader in the Chartis RiskTech Quadrant® for CLO Solutions 2020, which evaluated 13 CLO offerings in the market.
As a category leader, Trepp has been recognized for its capabilities across two key areas: market potential and overall completeness of its offering (see graphic). In both categories, Trepp demonstrated the strength of its CLO product suite.
"This recognition is an important milestone for the TreppCLO product suite," said Andrew Jacobs, head of structured finance at Trepp. "Just four years ago, Trepp first expanded its capabilities into the CLO market, offering its clients streamlined analytics and data to evaluate the loans, bonds, and managers in this market. Leveraging its trusted expertise in analytics and modeling, Trepp has become a top option for CLO market participants," Jacobs said.
Trepp's launch into the CLO market was initiated with its acquisition in 2016 of a European analytics start-up well-versed in structuring and modeling CLO deals. Within a year, Trepp continued the investment of its CLO suite with another acquisition and a ramp-up of a dedicated team focused on CLO analytics and insights.
Recently, Trepp released several new enhancements to TreppCLO to enable streamlined review of contracts and offering memorandum, and instantly access news updates. TreppCLO is part of the firm's Structured Finance solutions that also includes TreppCMBS, TreppDataFeed, and TreppEngine.
For more information about TreppCLO, contact Trepp at info@trepp.com at 212.754.1010 or visit our website.
For press inquiries, please contact Hayley Keen at 212.329.6208.
About Trepp
Trepp, founded in 1979, is a leading provider of data, analytics, and technology solutions to the global securities and investment management industries. Trepp specifically serves three key sectors: structured finance, commercial real estate, and banking to help market participants meet their objectives for surveillance, credit risk management, and investment performance. Trusted by the industry for the accuracy of its proprietary data, Trepp provides clients sophisticated, comprehensive models and analytics. Trepp is wholly owned by Daily Mail and General Trust (DMGT).