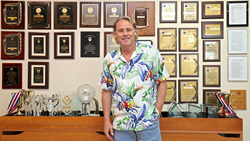 We're excited about this new direction; it opens a lot of new opportunities for our organization and we plan to make the most of these for our clients and our great Tres Amigos team
PLAYA HERMOSA, Costa Rica (PRWEB) October 09, 2020
After 17 years, the Tres Amigos Realty Group is no longer associated with RE/MAX. According to Michael Simons, owner of Tres Amigos, "We were one of the first big players in the Costa Rica real estate market since the early 2000s. At that time it was important to be affiliated with a big franchise such as RE/MAX because Costa Rica was relatively unknown as a place to invest and we were tasked with building confidence in the market. The RE/MAX name really helped. Things are different now. RE/MAX is a great organization but now people everywhere know that Costa Rica is as stable as Hawaii in terms of investment security, so being affiliated with a big name organization is far less important. It also frees up a lot of extra capital we can use to market our inventory more aggressively."
The northern region of Costa Rica, Guanacaste, has long been a popular location for those purchasing real estate as an investment, or for retirement living. Expats from around the world have flocked to the region which has resulted in a hybrid community of mostly locals, North Americans and Europeans. This mix of foreign nationals has created a demand for upmarket products and services and driven international investment. Several iconic hotel names such as Four Seasons, JW Marriott and Andaz by Hyatt have set up shop. There is a prestigious Marina and an Arnold Palmer designed golf course at Papagayo.
Tres Amigos was founded in 2003 by Michael Simons and Chris Simmons, two highly experienced entrepreneurs. The business benefited from the real estate boom during the early 2000's and virtually monopolized the northern Pacific real estate market of Costa Rica. It is now recognized as one of the leading real estate groups in Latin America.
While affiliated with RE/MAX, Michael Simons and other Tres Amigos agents received well over 60 awards for outstanding sales performance, including multiple Diamond Awards, Titan awards, Chairman's Club awards, Top Producer awards, Hall of Fame and a Lifetime Achievement award, and Broker/Owner of the year awards. Michael Simons was the #1 Top Producer for Individual Transactions in 2019 for the Caribbean and Central America, and #18 Individual Commissions paid for RE/MAX Global. He also qualified for the prestigious CIRCLE OF LEGENDS AWARD, the second highest award you can earn with RE/MAX. There are currently only 130 active members in the world, who have achieved this level of success.
Tres Amigos has three offices located in northern Guanacaste, Costa Rica. The principal office is in Playa Hermosa, another in Playas del Coco and a third in Playa Panama.
"We're excited about this new direction; it opens a lot of new opportunities for our organization and we plan to make the most of these for our clients and our great Tres Amigos team," continued Michael.