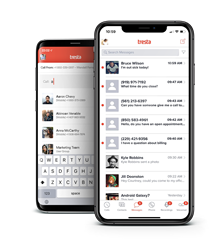 "With text messaging becoming the preferred method of communication, we're excited to be a part of the shift in the market that's making B2C messaging possible." said Austin Davidson, Tresta's President & CEO
TALLAHASSEE, Fla. (PRWEB) August 06, 2019
Tresta, Inc., a virtual phone system focused on simplifying business communications, announced today the official launch of text messaging within their Tresta mobile app.
Tresta's business phone system provides unlimited calling - and now texting - from anywhere on any device with an easy to use app. By offering powerful call routing, scheduling and management features, the platform empowers businesses to streamline the way they communicate. The text messaging feature is just one of numerous new and updated features set to roll out over the remainder of 2019 and into 2020.
According to research, text messages have a 98% open rate, so it's no wonder more and more businesses are using text messaging as a core communication channel within their organizations and with consumers.
"Despite text messaging becoming the preferred method of communication over phone calls in most personal interactions, it is rare for businesses to have the ability to send and receive texts from their main company phone number. I believe that we'll see B2C communication capabilities move to a new norm where any phone number will be messaging capable. We're excited to be a part of the shift in the market that's making it possible." said Austin Davidson, Tresta's President & CEO.
Tresta's low monthly per-user pricing includes one free local or toll-free number, plus unlimited minutes and unlimited access to all of its powerful features - without hardware or a contract. With Tresta's texting feature you no longer have to text using your personal number - send and receive text messages to customers, colleagues or even departments using your business phone number. Here's some of the top ways Tresta users are utilizing text messaging for their business:

Setting up a customer service phone number for customers to text so the first available team member can respond.
Texting remote team members for quick collaboration.
Enhancing communication with customers and prospects with personalized text messages.
"I love being able to communicate with my clients using my business number on my cell phone. Texting is a great way to collaborate quickly and overall has been an enormous time saver."
-Christie Woodrow, Wildflower Event Design
To learn more about how texting can benefit your business visit our site. For current customers to access full-featured texting, you'll be asked to update your mobile app by visiting the iOS App Store or the Android Play store. To read more about how texting works, visit our Help Center.
About Tresta
With Tresta, you don't need special phones or hardware. Set up and manage your phone system entirely online and go truly mobile with a business phone system that you can use from anywhere on any device. For information about how Tresta can simplify your business communication, call 844-2-TRESTA or visit http://www.tresta.com.