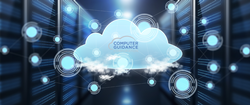 "eCMS was the first construction-specific ERP in the Cloud and CGC has a long history in delivering a rock-solid platform with world-class services that ensure our clients both a smooth transition as well as long-lasting performance." Bob Shantz, Director of Infrastructure and Cloud Services, CGC
SCOTTSDALE, Ariz. (PRWEB) October 13, 2020
Computer Guidance Corporation, the leading developer of cloud-based ERP solutions for the construction industry, today announced that Tri-City Electrical Contractors, Florida's largest electrical contractor, and Associated Builders and Contractors (ABC) National 2020 Contractor of the Year, has migrated to CGC's Hosted eCMS ERP.
Headquartered in Altamonte Springs, FL, with 722 employees, Tri-City Electrical Contractors has become Florida's largest electrical, communications and service contractor. The company has experienced significant growth in recent years while being called on to respond to critical situations caused by several states of emergency, hurricanes, and weather-related events, and most recently, COVID-19.
Based on its ever-changing business needs, the organization has transitioned its infrastructure to a risk-free and more cost-effective cloud-based ERP, allowing for greater focus on clients' needs rather than technology upkeep.
"In our line of work, we see the critical importance of managing risk on a daily basis, and working with Computer Guidance Corporation to transition our infrastructure to their Cloud-based eCMS ERP fulfilled that need for us in a big way," said Cindy Bargo, Controller, Tri-City Electrical Contractors. "We achieved a comprehensive business continuity plan, added flexibility for our teams on the ground, and have felt cost savings rippling across the enterprise. Best of all, the implementation was flawless, from planning and testing to cutover and rollout, the entire process was well-managed by CGC and seamless for us."
Key driving factors for Tri-City Electrical Contractors' decision to migrate to the Cloud were the built-in disaster recovery and business continuity plan that would mitigate the impact of catastrophes. After the weather-related events the company had been through, alongside COVID-19, Tri-City Electrical Contractors realized that moving everything to the cloud would eliminate the need to manage an ERP system and the associated infrastructure onsite at their headquarters. The transition would alleviate not just hardware and software maintenance, but also the IT headcount and expertise required to maintain the ERP. Hard and soft costs would be eliminated with the Cloud and allow reallocation of employees' time to activities that would continue to help the business grow.
"eCMS was the first construction-specific ERP in the Cloud and Computer Guidance Corporation has a long history in delivering a rock-solid platform with world-class services that ensure our clients both a smooth transition as well as long-lasting performance," stated Bob Shantz, Director of Infrastructure and Cloud Services, Computer Guidance Corporation. "Our cloud infrastructure continues to grow at an exponential rate and our investment in its ongoing development means companies like Tri-City Electrical Contractors get cutting-edge technology and a system that provides them with 99.9% uptime, the highest security available, and tremendous scalability to meet their changing business needs. Our goal is to maintain and manage our clients' Cloud-based ERPs so seamlessly that they become invisible to them."
About Computer Guidance Corporation
With over 20% of their clients represented on top ENR lists, Computer Guidance Corporation delivers the leading construction enterprise resource planning solution including financial and project management, #1 business intelligence, mobile, and enterprise content management. Scalable, customizable, and cloud-hosted, CGC serves thousands throughout North America. Computer Guidance Corporation is part of the JDM Technology Group, a global construction-specific software conglomerate that serves more than 500,000+ in 40 countries and 6 continents.