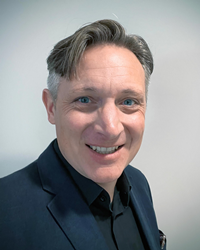 "I love to tinker with products, to really understand every part of them. To me, this is key to knowing if your product will add value to your client. It's the same with relationships."
ELMHURST, Ill. (PRWEB) January 10, 2023
We are excited to announce that Ned Atkinson will be representing Tri Lite as a National Sales Consultant starting January 1, 2023. Ned brings over 20 years of experience developing territories and growing sales for manufacturers within the lighting industry. With a background in Design which includes a BA and postgraduate sponsorship from the Audi Design Foundation, Ned has a passion for well made, innovative products and services.
"I love to tinker with products, to really understand every part of them. To me, this is key to knowing if your product will add value to your client. It's the same with relationships."
When Ned isn't calling on our valued customers or developing new relationships and markets, you will find him either lying under a classic car, halfway up a mountain on a mountain bike or playing Call of Duty with his daughters.
"With a focus on growing our business through new products and markets, Ned will provide critical strategic insight as an integral partner to our leadership team," said Jeff Spencer, President and CEO of Tri Lite.
Please join us in giving Ned a warm welcome and expect him to be connecting with you soon!