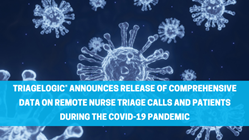 TriageLogic has collected data from nurse triage call centers and studied how patient behavior and use of telephone nurse triage services was affected by the COVID-19 pandemic.
JACKSONVILLE, Fla. (PRWEB) January 05, 2021
TriageLogic, a leading provider of remote telephone nurse care, has kept meticulous records on patient sentiments, attitudes, demographics, and triage outcomes to help providers and hospitals better understand patient health conditions. They released a white paper on trends and insights that can help the healthcare industry better understand the pandemic and patient responses to it. The white paper, titled "Nurse Triage: Patient Phone Calls About COVID-19", has been published on TriageLogic's website for all healthcare providers and organizations to review.
The insights from this paper are helpful in explaining the sentiments around Covid-19 and the reasons for patients to call a telehealth line. It also highlights the importance of telephone nurse line and remote patient care in diverting callers who do not need to seek emergency care. At the same time, it highlights the large number of people who avoided care when they were having a serious symptom.
The numbers clearly support the fact that patients, in times of anxiety and genuine sickness, turned to nurse lines because they are an effective, convenient, and safe alternative to going to the emergency room or doctor's office. They also highlight that nurses were the go to place for patients with anxiety around Covid-19. This has helped alleviate the health care system and at the same time make sure that patients seek care when needed.
The key takeaways are as follows:

Over 10% of patients with serious symptoms weren't planning to go to the ER. This was largely due to fear of catching COVID. Triage nurses were able to save serious morbidity and mortality.
About 21% of patients calling a nurse line needed urgent care. Remote nurse triage directly affects patient outcomes and potentially saves lives.
The percentage of calls to a telephone nurse line about COVID mirrored the spikes in the total number of cases.
Calls, especially those regarding exposure, were relatively high at the beginning of the pandemic. This is likely due to a lack of information at that time.
Patients who called about COVID were less likely than average to need urgent medical attention However, they were more likely to need a follow-up with a medical professional.
COVID-19 may have changed the way patients sought care for other conditions.
This data has been made widely available to the medical community in hopes that it sheds light on patients and their behavior during this difficult time. You can read the full paper here.
About TriageLogic®
TriageLogic is a URAC-accredited, physician-led provider of top-quality nurse telehealth technology, remote patient monitoring, and medical call center solutions, all with the purpose of encouraging positive patient behavior and improving access to healthcare. Founded in 2006, the TriageLogic Group now serves more than 9,000 physicians and covers over 20 million lives nationwide. They continue to partner with private practices, hospitals, and corporations throughout the U.S.
Visit http://www.TriageLogic.com for more information, or email them at info@triagelogic.com.