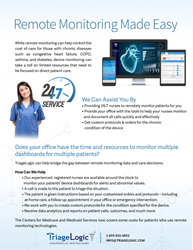 "Could reduce its costs by nearly $200 billion during the next 25 years if remote monitoring tools were used routinely in cases of congestive heart failure, diabetes, chronic obstructive pulmonary disease (COPD), and chronic wounds or skin ulcers."
JACKSONVILLE, Fla. (PRWEB) November 19, 2020
Triage Logic announces specialized triage remote patient monitoring (RPM) software and services. Remote patient monitoring is a system for monitoring chronic diseases and improving health outcomes amongst patients with chronic health conditions. Patients wear an electronic device that measures and transmits information to doctors. Doctors receive regular updates from the device on the patient's condition, allowing for swift intervention for high-risk patients.
TriageLogic now offers fully customizable software for staff or providers who want to do remote patient monitoring. The software uses custom orders that are specific to the device and disease along with standardized protocols from Schmidt-Thompson. TriageLogic's medical director is available to work with doctors to create customized orders.
TriageLogic also offers an option to add non-clinical and clinical staff to monitor the devices and call patients. Non-clinical staff in call centers can monitor information regularly and decrease the work for clinical staff. Non-clinical staff can call patients back about device malfunctions or education related to the device. They can also refer alerts to doctors based on rules the doctor has given.
TriageLogic's nurses can also help patients and reduce the workload for doctor offices and hospitals. Clinical staff use Schmidt-Thompson protocols to make sure the patient does not have serious symptoms. Once the overall health has been established, the nurse uses disease and device specific protocols to determine which patients require the attention of a physician. TriageLogic's customizable software allows nurses to follow protocols, ask the right questions, and come to the right disposition. The software also allows nurses to document calls in an organized way that can be attached or embedded in existing EMR.
RPM is an effective strategy for improving health outcomes amongst patients, especially those with chronic diseases. Many RPM devices are able to capture data that is not necessarily observed by the patient. As a result, providers are able to monitor important vitals and intervene before a patient even presents with concerning symptoms.
RPM can also decrease healthcare costs. The Center for Medicare now reimburses doctors for remote patient monitoring. A recent article in the Center for Technology and Aging asserts that the healthcare industry "could reduce its costs by nearly $200 billion during the next 25 years if remote monitoring tools were used routinely in cases of congestive heart failure, diabetes, chronic obstructive pulmonary disease (COPD), and chronic wounds or skin ulcers."
For continuing education, TriageLogic has a new triage nurse learning center course available on remote patient monitoring (RPM). The course explores the following: a. What is RPM; b. the benefits of an RPM system to both the patient and the provider; and c. how can doctor offices implement a program with minimum staff time by using both clinical and non-clinical contact centers.
If you have any questions on how to implement remote monitoring for your patients, contact TriageLogic at info@triagelogic.com. For more information on remote patient monitoring, click here.
About TriageLogic®
TriageLogic is a URAC-accredited, physician-led provider of top-quality nurse telehealth technology, mobile applications, and medical call center solutions, all with the purpose of encouraging positive patient behavior and improving access to healthcare. Founded in 2006, the TriageLogic Group now serves more than 9,000 physicians and covers over 20 million lives nationwide. They continue to partner with private practices, hospitals, and corporations throughout the U.S.