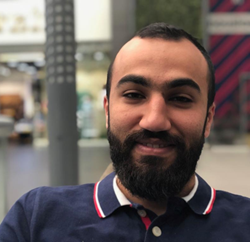 ...this was very motivating for me because I learned that even if I don't have the resources or money, I can actually do a lot of things like opening a business...
LONDON (PRWEB) March 17, 2021
A funded trial of refugee participants originally from Syria, Palestine and Yemen, currently located in Lebanon and Jordan has shown excellent outcomes and skills gain. The program was run as a pilot by Virtual Internship Partners and Kiron Open Higher Education with a view to providing accessible and meaningful work experience to those unable to access in-person opportunities for upskilling and career progression.
The candidates were matched with SMEs from around the world in their chosen career fields, and were given support throughout the internship via live online skills coaching and access to a trackable employability curriculum provided by Virtual Internships. The program also included an expert speaker webinar series and opportunities to build global networks among young professionals in their specific career field.
The companies 'hosting' the interns remotely were located in the UK, UAE, Nigeria, Singapore and China, and covered the finance, business, NGO and IT career fields.
"This internship was a great opportunity for me because I learned a lot about the work environment and it was great practice for learning my strengths and weaknesses. I will apply the skills that I have acquired in the scope of this work, and continue to learn other skills, and I'm proud that I was able to join and complete this internship!" - Eshraq Alaghbari, intern at UK based company, TSN.
"On my CV I now have an internship with an international company outside Lebanon, and I'm also planning on asking my supervisor to write me a LinkedIn recommendation which I think will definitely have a positive effect. This internship gave me an idea about how startups go through their phases of improving their product and getting investors, and this was very motivating for me because I learned that even if I don't have resources or money, I can actually do a lot of things like opening a business." - Ahmad Al-Hajj, intern at UAE based company Umore.
During the program, which lasted eight weeks, one of the interns received his final paperwork to move to Canada, and was still able to finish his role with his host company, showing the flexibility that a remote internship can offer to candidates who may need to move geographies at short notice.
Initial concerns about access to laptops or broadband were allayed and due to the project-type work and flexible timing and location of the internship no significant access issues were noted. 100% of participants noted that they were more confident in finding full time employment after completion of the internship. When surveyed, the interns' host company supervisors noted the average skills gain across eight core employability competencies was rated as "significant". "She's been a great intern - proactive, dedicated, and eager to learn." said Eshraq's supervisor at TSN.
Co-Founder and President of Virtual Internships, Ed Holroyd Pearce explained: "Accessibility and the increasing relevance of remote work have been key drivers for us since 2018 - we are thrilled to be able to bring international work experience to communities who would otherwise be unable to access it."
The joint organizers of the program are now seeking to roll out the initiative to a wider audience and are currently exploring funding avenues with several governments and corporations. Interested parties are invited to contact Andrea McWilliam, head of Innovative Programming, Virtual Internship Partners Ltd.